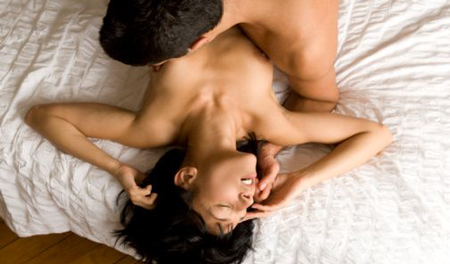 Chances are good that you are not using one of the best tools in your sexual arsenal to its full potential.
| by Sarah Stefanson |
This secret weapon is your mouth. We're not just talking about oral sex here, although you should be giving her oral pleasure on a regular basis if you want to be a good lover, and we're going to go beyond kissing on the mouth in this article, which you should have mastered by now if you want to kiss her anywhere else.
Your mouth can be applied to various other parts of her body by kissing, licking, nibbling, biting, and sucking. Anywhere you touch her with your hands will most likely feel even better when stimulated by a warm, wet mouth. When it comes to kissing women, some of their favorite places are obvious, while others are frequently overlooked.
Ears
The ears are an often-neglected area of the body that can be the site of intense pleasure for her and using your mouth is the best way to stimulate them. Gentle nibbling on the earlobe is a reliable way to send shivers down her spine, but you should also try lightly brushing your lips against her ear, which will rouse the soft, fine hairs there creating waves of tingly pleasure.
Back of the neck
One of the easiest and most dependable ways to get her in the mood is to place your mouth on the back of her neck. This works especially well if you take her by surprise. When she's at the sink doing dishes or working on the computer, approach her quietly from behind, sweep her hair off the back of her neck and kiss her there. She will soon forget her task and want more.
Face
There are few things more personal than kissing a woman on the face. Your warm, fuzzy feelings for her can be expressed by placing sweet, light kisses on her cheeks, forehead, jaw line, even her nose and closed eyelids. But don't lick her face. Just don't. It's icky, not sexy. No biting either. Her face should be treated with tenderness and reverence.
Collarbone
While her clothes are still on, one of the most intimate places you can lay some kisses is along her collarbone. A woman's exposed collarbone is sexy and your mouth on it makes her think of your mouth on more private parts of her body. So start off with kisses there before you move on to places you can't reach while she's fully clothed.
Hips
Her hips are more sensitive than you would guess. It could be because they are so close to the center of her physical pleasure. Whatever the reason, kissing, licking and nibbling at her hips will send currents of delight down to her toes and up to the top of her head. Don't neglect this place she wants your mouth to be.
Breasts
Putting your mouth on her breasts can be intensely sexy, but doing it wrong can turn her right off. Kissing, licking and sucking are all recommended and even some gentle biting can be acceptable as long as you take it easy. Her breasts are delicate, so don't forget that you have to treat them appropriately. Unless she's into hardcore S&M, hard sucking and biting are no-nos. Her breasts should not have bruises when you are done with them. Also, remember that her nipples are not the only parts that need some attention. Use your mouth all over her breasts for maximum effect.
No-go areas
No matter where your mouth ends up, it's probably going to make her feel good. However, there are a couple body parts you should always get permission to apply your mouth to before exploring, including her feet and her bum. Some girls simply aren't into having your mouth in these sensitive areas, so ask her before you go there. On the other hand, some girls would enthusiastically welcome some toe sucking or some tongue action down below. Find out where she stands and use your mouth accordingly.