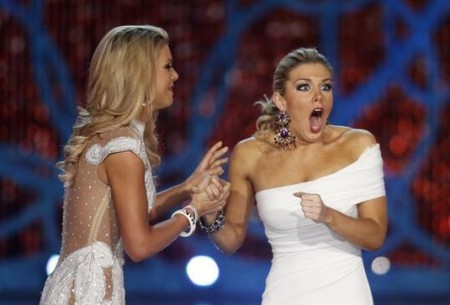 Miss New York Mallory Hagan was crowned Miss America 2013 on Saturday night, after beating out 52 other contestants for the coveted crown.
| by Jessica LeFevre| 2013
Miss South Carolina Ali Rogers was the first runner-up, while Miss Oklahoma Alicia Clifton was in third place. Fourth place went to Miss Wyoming Lexie Madden and Miss Iowa Mariah Cary took the fifth position in the competition.
Mallory's Miss New York 2012 biography revealed that she attends the Fashion Institute Of Technology and is working on a degree in Advertising and Marketing. After graduating, she plans to become a global marketing director for a cosmetics company. She revealed, "I moved to New York in October 2008 with less than a grand in my pocket, a BIG suitcase and a lot of hope."
For the competition, she showcased her tap dancing talent to James Brown's song "Get Up Off Of That Thing". For the modeling portion, she showed off her physique in a black bikini. And for the final round, she chose a question which related to the NRA's plan to place armed guards at schools. Sam Champion asked, "In the wake of the Newtown tragedy there has been a lot of talk about gun control. One solution being proposed is an armed guard in every school. Do you think that would make our schools safer?"
She responded, "I don't think the proper way to fight violence is with violence. I think the proper way is to educate people on guns and the ways we can use them properly. We can lock them up, we can have gun safety classes, we can have a longer waiting period."
Congratulations to Mallory Hagan on her win! Who were you rooting for?