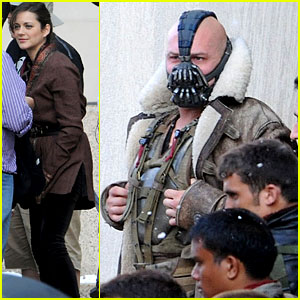 Marion Cotillard and Tom Hardy film scenes on the set of their film The Dark Knight Rises on Sunday (July 31) in Pittsburgh, Penn.
| by Just | 2011 |
TThe 35-year-old French actress plays the role of Miranda Tate, "a Wayne Enterprises board member eager to help a still-grieving Bruce Wayne (Christian Bale) resume his father's philanthropic endeavors for Gotham."
Earlier in the weekend, we got our first look at Tom on the set as Bane!
Production on the film will continue in Pittsburgh until August 21, when it will move on to New York City and Los Angeles.