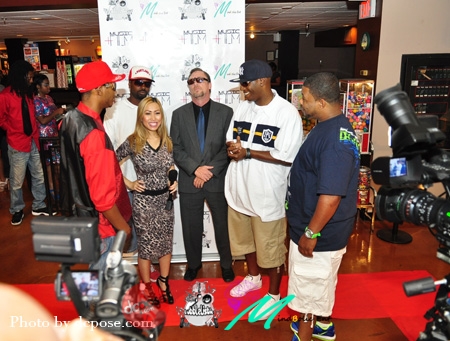 On July 7th 2011, The Montgomery Royal Theater's inviting marquee lights are patterning around the movie title "RIFT."
| by Aliya Elaine Duran | 2011 |
The red carpet flutters with anticipation of movie supporters and curious viewers. Media crews from DC 50, Grind Hard Experience, Fox 5, The Examiner, MindBolic Entertainment, EBD, and Shy Magazine photographed and filmed the entire evening.
I had the opportunity to interview long time business colleague, Roshanda Duncan who is the executive producer and music coordinator of the physiological thriller. I asked her thoughts on this monumental event since she is one of the few minority women breaking doors and paving paths in the film and entertainment industry, she simply replied, "This film has been in the works for years. Many people do not know that this is the first time the EAST COAST has seen the movie RIFT. The outcome was so overwhelming; the Montgomery Royal had to move the film into another theater. I have to give a lot of credit to Mindbolic.com, who supported me through the whole process."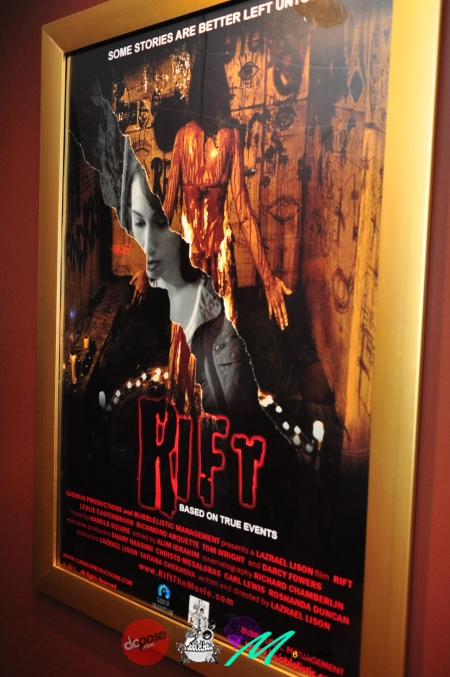 There was a special surprise performance by C Movement's artist, Supa Shug. Who's single "Dis ain't for da Radio" was featured in a car scene in the movie. He is the main hip hop artist on the movie soundtrack. Supa Shug also credits Bubblelistic Management for his first musical placement on a Hollywood film.
Two hours after interviews, the premiere is ready to begin and seats filled to the max. "RIFT" takes the audience through an unraveling story based on true events of eight college students were brutally murdered inside Town Creek's newly refurbished apartments. Aspiring journalist, Jennifer Campell takes on a roller coaster of evidence. Intrigued by the dark history surrounding the town, she bravely forces her way into the building and begins to unravel the forces that the town's long buried secrets has tried to keep hidden. "RIFT" stars Leslie Easterbrook (as Megan Charms), Tom Wright (Lieutenant Neal), David Arquette's brother Richmond Arquette (Officer Kelly).
After credits are rolled, the audience claps with a standing ovation!