So eager was Will Smith to see Michael Jackson's swansong he rushed inside the venue where the king of pop's eagerly awaited film was showing, only fleetingly stopping to greet fans.
| by Kevin V. |
Jennifer Lopez, Paris Hilton and boy band Westlife were also among the stars paying homage to the entertainer as This Is It premiered in 19 locations around the world.
Meanwhile, members of the Jackson clan including brothers Jermaine, Randy, Tito and Marlon, attended the Los Angeles premiere.
But for all the glitz at the red carpet showings it was all about the ordinary fans, who'd come for a tantalising glimpse of their hero's final preparations for a comeback at the O2 arena.
Many had camped from the evening before in order to get in to the first public showing at 4am.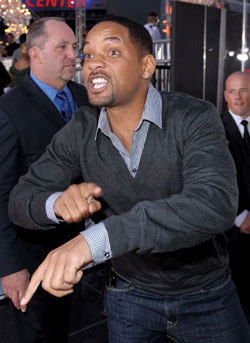 Michael's siblings were keen to stress that the documentary features rehearsal footage rather the final polished show that concert goers could have expected.
Even so what shines through clearly, according to critics, is the star's absolute drive for perfection.
"I'm not feeling that part enough", he is seen complaining to a musician at one point. The musician responds, "It's coming there".
"Well get there" orders Michael.
This dedication to his artistry made the Thriller singer's friend Elizabeth Taylor hail the film as "the single most brilliant piece of filmmaking I have ever seen".
She added: "I wept from pure joy at his God-given gift. There will never, ever be the likes of him again.