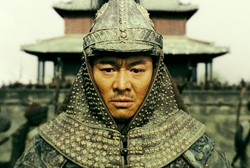 What was on your Christmas list? How about an ancient Chinese epic movie called The Warlords starring Jet Li?
| by Alex Billington | Dec. 09 |
|'m not sure why, but Magnolia Pictures just debuted the official US trailer for The Warlords, which is a part of their Six Shooter Film Series V2, on Christmas Eve tonight (on Apple). Despite their odd timing, this is actually a badass trailer. Set in the midst of war and political upheaval during the Taiping Rebellion of the 1860s, The Warlords stars Jet Li as General Pang, who barely survives a brutal massacre of his fellow soldiers by playing dead, and joins a band of bandits led by Er Hu and Wu Yang. Watch and enjoy below!
A heroic tale of three blood brothers and their struggle to survive in the midst of war & political upheaval.
The Warlords was co-directed by veteran filmmakers Peter Chan, a former John Woo protege, and Wai Man Yip, of numerous Chinese films with crazy names like Sixty Million Dollar Man, For Bad Boys Only, Women from Mars, and Anna in Kung-Fu Land. The screenplay was co-written by eight different Chinese writers. The film is based on "The Assassination of Ma," a Qing Dynasty story about the killing of general Ma Xinyi. Magnolia Pictures will be bringing The Warlords to limited theaters starting on April 2nd, 2010 next year.