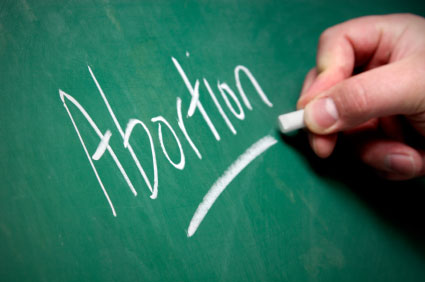 Reproductive rights are under full-frontal assault in Ohio today: the Ohio House of Representatives advanced the "heartbeat bill."
| By Jessica Wakeman | 2011 |
The "heartbeat bill" would make abortion illegal when a fetal heartbeat can be detected, which is typically around six or seven weeks. Some women don't even know they're pregnant at six or seven weeks, which, alas, is just what anti-abortion extremists want. Ohio's heartbeat bill, which had two fetuses "testify" on its behalf earlier this year, also doesn't contain exceptions in the case of rape, incest, or the woman's health.
The Ohio House also advanced a bill that would ban abortions after 20 weeks if a doctor determines a fetus could survive outside the womb (presumably on life support as a very, very premature baby). And last but not least, it advanced a bill that forbids certain health insurers from covering abortion.
All three bills are headed to the Ohio state Senate, which is controlled by Republicans. Well, that's just lovely. Get on your telephones, Frisky readers in Ohio. It's time to call your elected representatives and give them a piece of your mind.