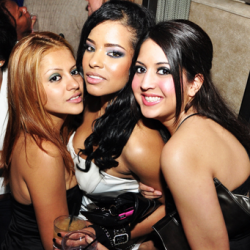 Yellow lights spill from the entrance onto 14th St. NW, just blocks from the U St. Corridor.
| by Lucy Coutinho | Dec. 09 |
Since it's opening in March 2009, Policy's unique walls adorned in graffiti, and elegant chandeliers create the perfect blend of an urban scene intertwined with sophistication.
As a multi-faceted venue, eclectic hipsters come here to dine, wine, and party the night away. This trendy new spot has since lured the curiosity of patrons that aren't afraid to flirt with experimentation. "Policy is a great place to pop in if you are out and about on Tuesdays. They've got a great DJ and beautiful people," says a local club goer.
The inviting and sexy entrance allures the crowd to an assorted menu selection that includes mouth-watering roasted lamb sliders, roasted all natural chicken, and hanger steak. These decadents are all prepared by Executive Chef, Brian Murphy, who brings his global influences to the heart of Washington, DC. For those who are bold enough, take a trip on the wild side with their cocktail signature drinks: "truthini" (a green tea and lemon grass martini), "libertini" (mango capirinha), and "lovetini" (chocolate vodka and cinnamon lollipop). If that's not enough to fuel the inquisitive mind, there's much more to be discovered beyond the ground level. Upstairs, you'll find upbeat tempos and an à la mode crowd guarantying an inviting and memorable stay.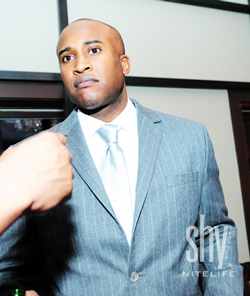 Mitch Mathis and Dt Nation has been the mastermind behind Tuesday night at Policy with a promotional repertoire that travels as far back to 2006 and passion since age seventeen. The vibrant, yet sublimed ambiance, mirrors the crowd that Mitch mostly caters to, which is multiplicity. "I want to bridge the gap with an urban crowd and international flare," he says. "We are located in a diverse place, so we want to make sure that we keep Tuesday nights just as diverse." Mitch is also known for organizing other well-established parties throughout DC, which includes Shadow Room on Thursdays and The Park on Fridays, bringing the glitz and glamour into the nightlife.
Policy blends cultures of all corners of the world. Beyond the entrance, assorted sounds and decked out walls greet everyone that comes through the door, opening up a new world for a romantic dinner, drinks with friends, and pulsating fun!
30+ pictures inside of Policy

[simpleviewer id="16″ width="450″ height="700″]