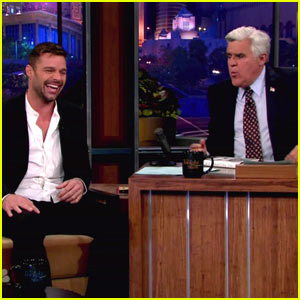 Ricky Martin stops by The Tonight Show to chat with Jay Leno in an episode airing on Tuesday (May 3).
| by Just | 2011 |

Here are a few highlights from the 39-year-old singer's interview:
On being a sex symbol while keeping his sexuality under wraps: "Being Ricky Martin and what Ricky Martin represented back then and what I was feeling was not very compatible at all. I was the sex symbol and I needed to dance and I needed to make girls crazy and I couldn't say that I was gay…I'm very lucky to say today to say that I'm gay and I'm very happy and I love it and that's it!"
On his advice to people who haven't come out of the closet yet: "I just tell people to take care of themselves and focus on dignity and self esteem and look at yourself in the mirror and say, "I love you, everything is cool."
The day before, Ricky attended the Lakers game at Staples Center and watched the home team take on the Dallas Mavericks.