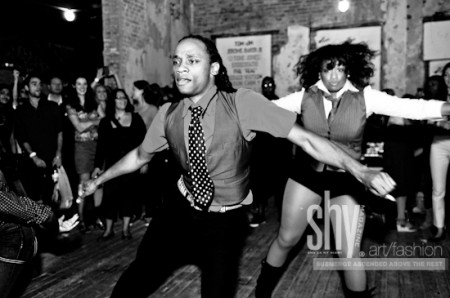 Hundreds of art, music, and fashion lovers gathered at SUBMERGE, a flash art space in downtown DC on Saturday night.
| by Quincy Jones | 2011 |
The event was in celebration of Nuit Blance, DC's first overnight contemporary arts festival. The energy all over the city on Saturday was none other than electric!
The night at SUBMERGE began with a performance from a local dance crew, then transitioned into a fashion presentation featuring clothing from area boutiques like Tari, Redeem, It's Vintage Darling, Treasury, Current Boutique, and Dr. K's. Local make-up guru Yaneek Proctor shared her talents, while the crew at Salon Cielo styled hair to perfection. Recording artist Alison Carney put the icing on the cake with an exhilarating performance that ended with her hit single 'Japanese Candy'. Congratulations to Peter Chang, Brandon Hill, and DYDC for executing a seamless event. If you missed it, check out some amazing shots here…