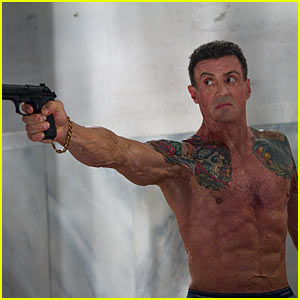 A shirtless Sylvester Stallone shows off his fit form in his new still for the upcoming action thriller, Bullet to the Head, out April 13, 2012.
| by JJ | 2011 |
Based on a graphic novel, Bullet to the Head tells the story of a New Orleans hitman (Stallone) and a New York City cop who form an alliance to bring down the killers of their respective partners. The unlikely duo take on all who stand in their way, and are willing to sacrifice everything to exact revenge.
Christian Slater, Conan the Barbarian's Jason Momoa and Lost's Adewale Akinnuoye-Agbaje also star.