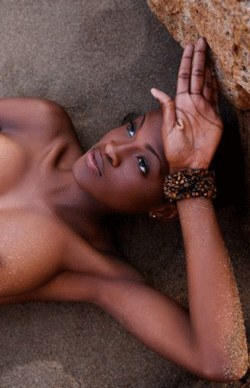 If you think women don't sit around fantasizing about very naughty things, think again. Women are experts when it comes to dreaming up the sauciest of fantasies, and they don't bother limiting themselves to the traditional.
| by Isabella Snow |
The top 10 female sex fantasies cover everything from fetish to threesomes, and you may be surprised to know that many women want to do more than just fantasize. Some women spend just as much time hoping their men will help put their female sex fantasies into practice. Sound interesting? Read on: we'll give you the inside scoop on the top 10 female sex fantasies, and what she's really daydreaming about when you least expect it.
NUMBER || 10
Domination (her dominating you)
Women love a big strong man who can sweep them off their feet and carry them into the sunset — but you may be surprised to learn that one of the top female sex fantasies is to have that same big strong man begging for sexual release in the bedroom. One of the top 10 female fantasies involves tying you down to a bed while she forces you to pleasure her with your tongue; the entire scenario revolves around you worshipping her body and begging for her attention. Why? She gets to be in control while enjoying total devotion from her man in the process. What more could she want?
NUMBER || 9
Domination (you dominating her)
The advent of the metrosexual is most commonly blamed for this top 10 female sex fantasy. It seems that modern, independent women actually prefer real men who aren't afraid to embrace their testosterone. This woman fantasizes about you pinning her down, thrusting her thighs apart with your knee and penetrating her as savagely as you possibly can. She wants to feel your fingers snake through her hair and pull her head back; she wants to feel your teeth on her shoulder; she wants to be owned — if only while in the bedroom (after which, she'll want a clear return to equality). This win-win female sex fantasy scenario allows her to fully indulge her femininity, while still espousing the merits of feminism.
NUMBER || 8
Teacher/student
You'll be thrilled to know that the Britney Spears fantasy isn't just for men: Women love the idea of dressing up like a schoolgirl and parading about for your viewing pleasure. Many would even like to take it a step further, playing the naughty tart who won't stop teasing you until you pull her over your knee and give her the spanking she craves. That's right: Loads and loads of grown women fantasize about getting a proper spanking from their man. A spanking from you is exciting for two reasons: not only does this mild show of dominance hurt so good, but it also usually leads straight into hot, hot sex.
NUMBER || 7
Sex with a stranger
Most women wouldn't have the chutzpah to act out this top 10 female sex fantasy, but you'd better believe that most have thoroughly enjoyed thinking about it. No-strings-attached sex is something many women would love to experience, but most are dissuaded from it thanks to a lofty load of self-produced guilt. Nevertheless, her panties definitely get wet at the idea of a gorgeous male approaching her in a dark, smoky bar and taking her back to his room for a long, hot night of wild sex. This female sex fantasy appeals to her naughtiest side — the kinky one that rarely sees the light of day, thanks to a lifetime of religious and societal conditioning.
NUMBER || 6
Threesome with another woman
These days, it's fairly common for straight women to get down with other women now and again, making this top 10 female sex fantasy a not-so-unrealistic possibility. That being said, this threesome fantasy rarely involves you getting playtime with the second hottie, as most girlfriends do not want to see their man touch another woman. In this scenario, you're meant to play voyeur until your woman is ready for something more hardcore. This allows her to experience the best of both worlds without having to worry about things like jealousy or sharing.
NUMBER || 5
Threesome with two men
This top 10 female sex fantasy involves the woman being worshipped and adored by two gorgeous men. These men are typically heterosexual and, therefore, only interested in the woman — which translates into a whole lot of action for her. Her sex fantasy might be as innocent as being penetrated by one man while performing oral sex on the other or it might go further, drawing on more hardcore aspects such as double penetration and the like. This female sex fantasy is the ultimate taboo for many women, which makes it all the more fun to imagine.
NUMBER || 4
Voyeurism
If you think women don't enjoy watching other people get it on, you're completely mistaken. Your woman likes to watch for the same reasons you do: it's erotic, exhilarating and slightly taboo. She may fantasize about peeping through the neighbor's bedroom window, spying on a kinky couple in the park or even catching a full-on orgy from the sidelines. Believe it when we tell you she enjoys "watching" just as much as you do; it allows to her be naughty without getting her hands dirty, so to speak.
NUMBER || 3
Rape
As mentioned in our Common Female Fantasies article, rape is a massively popular fantasy among women. Most psychologists believe this top 10 female sex fantasy allows a woman to have the wild, dirty sex she craves, without having to suffer the guilt that often follows. These female sex fantasies usually involve a gorgeous man carrying her off to his bedroom and quickly getting down to business. She'll protest as he tears her clothing off and expertly arouses her body, but on the inside, she'll love every minute of it. This continues to the point of penetration, and leads her to an incredible orgasm despite her earlier protests. This female sex fantasy allows a woman to be wanton and enjoy sex — something society rarely permits.
NUMBER || 2
Exhibitionism
She might cringe when you bring up the topic of making homemade porn flicks, but your woman has probably fantasized about doing precisely that at one time or another. Unfortunately, most women are far too body-conscious to experiment with such things, making this a top 10 female sex fantasy, as opposed to a reality. Believe it or not, some women even take this desire to the next level, fantasizing about others watching as you shag her silly in a public place.
NUMBER || 1
Private dancer
Most women wouldn't have the nerve to strip in a public setting, but this top 10 female sex fantasy definitely involves taking it all off. She loves the idea of tantalizing you with a striptease, and she'd love to give you a private lap dance. Why? Your enjoyment tells her you find her attractive, and your erection tells her she has control — a potent combination that women simply can't get enough of.
FANTASY CAN LEAD TO REALITY
Some of these female sex fantasies may have little chance of progressing to reality with your woman, but some have more potential than you may realize. A little bit of coaxing can go a long way in terms of spicing things up in the bedroom. Ask her which of these top 10 female sex fantasies she finds most appealing, and see if she's willing to experiment — you may be surprised by her answer.