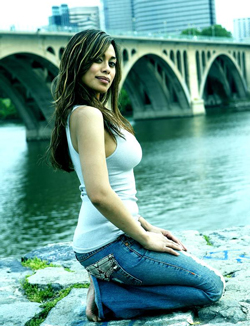 Mary Belen started her own D.C.-based interior design company, Realm Design Group, and helped create the fabulous, new club we know as Current before she has even finished her design studies at Marymount University.
| by Jan F. Lee | Shy M. |
In addition, Belen is also a bartender at Co Co. Sala and likes to spend time with her boo and friends. Fortunately, we were able to grab a minute (or two) to speak with her.
Let's take it back to the beginning. What was your childhood like?
I had a great childhood. I grew up in Guam, a little, tiny island in the Pacific. I was always at the beach or at the pool and we always had fiestas every week. I was really a kid. Nowadays, kids can't really go out and play on the streets, but I really did play. Tetherball, kickball, baseball, softball, football. I was definitely a tomboy, but I dressed like a super-girl. Very trendy, very fashion forward. I was a girly girl, yet I was a tomboy.
What was one of your favorite outfits?
I wouldn't say that I had a favorite outfit, but I coordinated from head to toe, including the barrettes in my hair to my earrings and socks.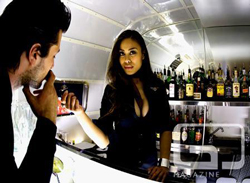 It seems you've always had an interest in style. How did you get into coordinating interiors?
I always had the desire to rearrange my bedroom at a very young age. Also, growing up, I always wanted to do projects in the house and redesign each room. I'd actually go to Home Depot and use my allowance money to get particular stuff, like paint, and fix the house. I think I was like, 13 [at the time].
Describe your current living space.
Functional, definitely functional. Kind of eclectic. Global.
And what about the bedroom?
It's very feng shui zen. And I chose that because the bedroom is a place of retreat. Especially when you wake up and before you go to sleep, that's the mentality that I want.
You have so many things on your plate. You're the main designer for an interior design company, a bartender and a student.
I feel like being productive keeps me out of trouble.
What do you like to do in your free time that you have?
Spending time with my boyfriend and spending time with close friends is a necessity to keep me balance. I really try to do the things that I love to do and get paid for it. Even though bartending is a job, I enjoy doing it. In regards to interior design, I love to do it and I've managed to make it into a profession. I also love anything that artsy, anything involving creative arts. Photography. Every now and then, I work with a photographer and a model. Or reading philosophical or psychological books.
What's the last book you've read?

Many Lives, Many Masters by Brian L. Weiss, M.D.
What are your plans for the future?
My goal is to go more into commercial design. The Current project was great, considering I am still a student, and I learned a lot. I definitely want to design restaurants and that's the reason why I'm working at Co Co.'s. I wanted to be around that environment so, if I were to ever design it, I know how things work. I also want to design lounges, I want to design clubs, I want to design hotel boutiques. Definitely the hospitality industry.
Be on the lookout to hear more from Mary when her Shy TV interview comes out next month.