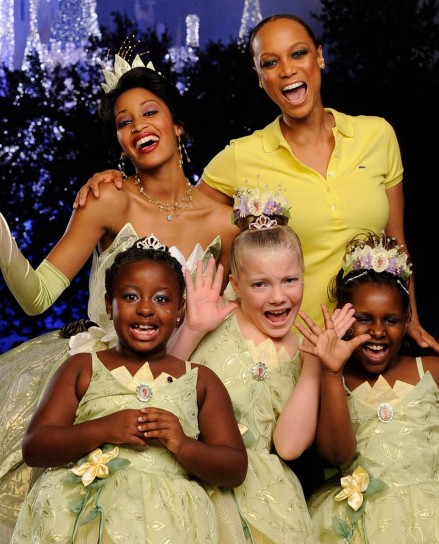 Tyra Banks makes one of her signature silly faces while posing Disney's newest princess, Tiana, at Walt Disney World in the Magic Kingdom on Friday (November 20) in Lake Buena Vista, Fla.
| by Linda J. | Nov. 09 |
Also pictured dressed as Princess Tiana — (L-R): Kimani Smith, age 6, from Fredericksburg, Va.; McKenna Pope, age 10, from Lodi, N.J.; and Shadeh Belgrave, age 8, from Jamaica, N.Y. Earlier this week on her talk show, Tyra surprised the three girls and their mothers with a vacation to Walt Disney World where they attended a tea party in their honor with Princess Tiana from The Princess and the Frog. The young girls' first-time visit to Walt Disney World with their mothers and Banks will be featured Wednesday, Nov. 25 on The Tyra Show @ 4PM on The CW.