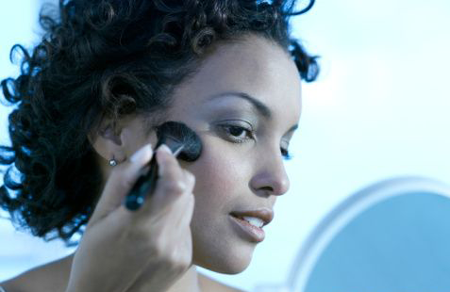 Budget friendly beauty tips are something we all want.
| by Melissa |
After all, what's better than being able to look good and save money? The truth is, looking good doesn't have to cost tons of money.It's easy to look great with little to no money at all. All it takes is the right affordable beauty tips to have you looking marvelous and saving a buck. Believe me, having a good Beauty budget is like a dream.
1. Easy Face Scrub
If your skin needs a good exfoliation and you don't have a face scrub on hand, there is no need to worry. My first budget friendly beauty tip has you covered. You can make your own face scrub by adding a little sugar to your current cleanser. Mix a tablespoon of sugar into a dollop of your cleanser and massage into your face.
2. Makeup Remover
makeup remover can be a little expensive. If you already have baby oil or cooking oil at home you really don't need to waste money on this beauty product. Mix two part cooking oil, such as canola or olive, to one part baby oil and store in a container. To use dab a little bit onto a cotton ball and wipe over your eyelids and lashes to remove Makeup and mascara.
3. Skin Blotter
If you are like me and have oily skin, you probably carry around little packet of papers to blot your face with during the day. Next time save the money on the glorified tissue paper and grab a fresh toilet seat cover from a public bathroom. If the thought of that is a little too much for you can buy a pack of gift wrapping tissue paper for about a dollar. Cut the paper down to the size you need and carry them in your purse in a plastic bag or small container.
4. Olive Oil
I've already told you how you can use olive oil as a makeup remover, but did you know that olive oil can help soften your rough cracked heels? Use this budget friendly beauty tip when your feet need a little TLC. Start by rubbing the oil onto your feet before going to bed. After the oil is rubbed in, put on a clean pair of cotton socks. The oil softens the rough skin and start to heal the cracks. Do this every night until your skin is soft and then do it once a week to keep the skin looking great.
5. Beautiful Beach Hair
You know how awesome your Hair looks after a day at the beach? Beach hair has amazing texture and perfect wave. You can get that look every day with a simple mixture. In a spray bottle, combine equal parts of warm water, conditioner and epsom salt. Spray the mixture throughout your hair and give it a little scrunch. Let your hair air dry as you finish getting ready.
6. Exfoliate for The Body
Epsom salt also works wonders to exfoliate your skin. Mix the 2 cups of salt in with your favorite moisturizer or petroleum jelly. Rub the mixture all over your skin, but pay close attention to rough spots such as your elbows and knees.
7. Highlights
You don't have to spend all that money at the salon to get gorgeous highlights over the summer, instead try this budget friendly beauty tip. Mix the juice from one lemon into a spray bottle with a ¾ cups of water. Spray all over your Hair before heading outside. The lemon will help naturally lighten your hair.
8. Get Free Samples
There are so many different things we can do at home to help with our beauty budget, but it doesn't change the fact that we girls love beauty products. The best way to try out the latest and greatest beauty trend is to get free samples. Follow your favorite beauty brands on Twitter or sign up for newsletters to your email. You will get updates on free samples and new products. Another budget friendly beauty tip is to make friends with the girls behind the Makeup counters. Ask about products; find out how they work, and what's coming up next before asking for free samples. Your interest in the product and brand is more likely to get you samples than just walking up and asking for free stuff.
9. Coupons
Don't forget about the power of coupons. Coupons can save you so much money on your favorite brands of makeup, Hair products, and other toiletries. Collect the Sunday paper for coupon inserts. Then check the sales ads. Look for coupons that match up to the sales. You can even use coupons on clearance items to save even more money.
10. At Home Manicure
You can give yourself a perfect manicure at home without paying the big bucks at the nail salon. Many people forget to use a base and top coat when polishing at home. The truth is, these two steps are so important to making your manicure last. They can also help strengthen your nails, so don't leave them out.
You see, budget friendly beauty tips are perfect for saving a little money and still looking great. I've shared some of my favorite ways to save money on Beauty; now tell me some of your affordable beauty tips.