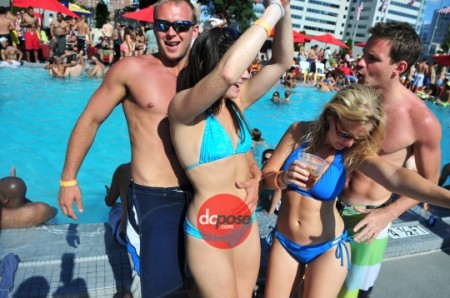 Where else can you find beautiful women in sexy bikinis, men flexing their biceps, and wash board abs!?!
| by Aliya E. Duran | 2011 |
Right in Washington D.C.'s own Capitol Skyline Hotel which is hosted by one of the hottest promoters, Eric Lund..
Enjoy the summer heat with "unique" cocktail drinks and good eats right next to the recently renovated Olympic sized pool. A true upscale scene from any other, with an open mind you can truly appreciate the pumping tunes of the latest house, electronica and pop music. On SUNDAYS, this is the BEST place to relax and unwind with a versatile adult crowd under the sun before the hectic work week begins.
Shy magazine will be covering this event through out the summer
Check out the latest updates every Monday!
Capitol Skyline Hotel is located on 10 "I" Street, S.W. Washington D.C., DC 20024
Event hours: 11am-6pm
Admission: $20 / Age: 21+