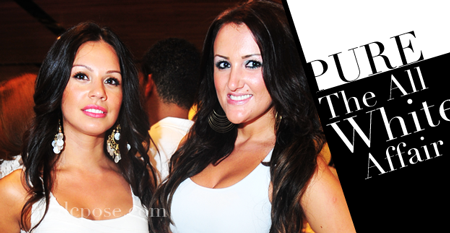 We've experienced everything from fashionable chic to upscale classy.
| by Aliya E. Duran | 2011 |
But, Shy Magazine was truly impressed with the 5th annual PURE All White Affair at the stunning "Mead" located at the center for American Theater. This event can only be described in a category of its own. Hosted by the incomparable Mr.Omari Ware who joined forces with well known business duo Dave and Ray.
Shy magazine had direct access to what was one of the most truly sophisticated and glamorous galas on July 3rd, during the nation's Independence Day weekend. What a magnificent sight to see! Architectural constructed natural wooden decors, plush white couches, and steel railings that overlooked the bright lights of the city. The theater was filled with thousands of gorgeous socialites among the multicultural crowd, toasting champagne flutes and posing for our cameras. A job well done to Omari Ware, Dave and Ray. We look forward to next year's tantalizing function.
If you've missed out on this affair, come and experience more of our promoter's incredible weekly nightlife events:
Wednesday – Josephine's (1008 Vermont Ave NW (between N 15th St & N K St)
Thursday – Cities (919 19th St NW (between N I St & N K St)
Friday- Recess (727 15th St NW (between N Pennsylvania Ave & N New York Ave)