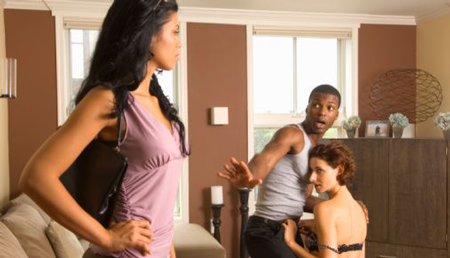 All men know that cheating is wrong; however, in troubled relationships, cheating can be an easy alternative to the burden of a relationship breakup.
| by DFTM |
Here are 5 reasons why some guys opt to shed their devotion and cheat on their women.
1. She doesn't turn you on anymore
A lot of women in long-term relationships with men become lazy and no longer concern themselves with staying as fit and attractive as they once were. You may still think that your lady is beautiful, but may simply feel that having sex with her has become boring and is not as exciting as it once was.
2. She's a nag
Cheating with another woman is a common escape from constant nagging, fighting and squabbling with the girlfriend who thrives on making her man feel like crap.
3. She won't put out
Long-term relationships seem to drain the sex drive out of many women, leaving some men gasping for fulfillment. It could be that the sex has become boring, she doesn't want to try new things in bed, etc…With the need for more sex and better intimacy, some guys will start looking for it elsewhere.
4. It's challenging and exciting
Nothing lifts a man's self-esteem like discovering that other women still desire him sexually. Some men simply cannot leave behind the thrill of the chase and the conquest. It's a fact that most men can't say "no" to sex. Although guys aren't constantly approached with sexual offers, sometimes opportunities with women seemingly as sexy as superstar Halle Berry present themselves. A guy may see it as once-in-a-lifetime opportunity that may never be available again.
5. Revenge for her cheating
For many men, the only way to relieve their anger and get back at their unfaithful girlfriends is by cheating to even the score.