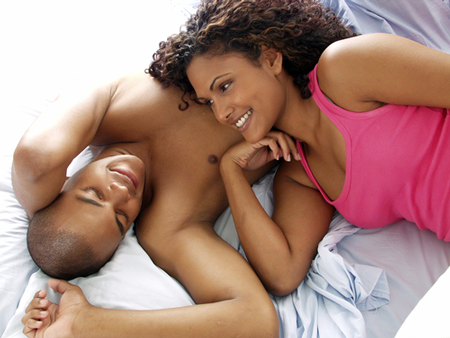 Ladies, get ready to turn back the clock on your libido.
| by Coach Ronnie Ann Ryan. | //
Remember back when you were a teenager? You had a new date every week, your hormones were raging, your mind was full of curiosity and your body was as limber as an athlete's? Flash forward a few years (or a few decades), and things are a lot different. Your schedule is packed, your days are super stressful and your love life is much more tame (a.k.a. boring). But here's the good news: Even if you're overworked, overextended, out of shape and have your arms full with the kids, you and your significant other can feel like a pair of giggly teenagers again—I swear. Here are 5 easy ways to channel your inner teen.
1. Make time for exercise (no excuses!). When you were a kid, you were always on the go. Who needs to hit the gym when you're cruising malls, dating and playing on the softball league? Exercise was built into your life. Now, if you're like most people, you either have a desk job or simply lack the energy to run around like you used to. That's why making time for regular workouts is crucial. Aerobic exercise is known not only for its distressing benefits but for helping your heart (and bod) stay healthy and fit. When you walk or ride the elliptical, it not only improves your circulation, it helps to clear your mind and firm up your figure. Working out also frees up a lot of pent-up energy that might otherwise manifest as an argument with your partner after, say, a stressful work day. Instead, spend some of that energy in spin class—and the rest in the boudoir.
2. Be a little selfish. Remember when it was all about you? As we get older, we outgrow the self-involvement of youth and learn to devote our time, love and energy to others. But that doesn't mean you have to deprive yourself of some of that love. So go ahead, pamper yourself. According to Regena Thomashauer, author of Mama Gena's School Of Womanly Arts, a pampered woman is a happy woman. As a dating coach for women, I wholeheartedly agree. When you take good care of yourself, that boosts your self-esteem, and makes you a better partner and a more confidant and desirable lover.
3. Be a rebel. Youth is all about rebellion, right? Just because you're heading to the board room these days instead of the classroom, doesn't mean you can't break the rules … discreetly, of course. So break out your best lingerie and don it underneath your work clothes to heighten your allure. Those silky, lacey underthings help you stay connected to your sexy side even when you're getting down to business. The sensual feeling you'll experience during the day will translate into a passionate evening with your partner.
4. Bust out those old CDs and records. Few things transport you back to a moment in time more easily than familiar music. According to a Harvard study, people placed into an environment that included music and memorabilia from their youth experienced improvements in memory, vision, and overall happiness and health. Did you have a favorite album that you and partner made love to years ago? Turn up the volume tonight and watch the sparks fly.
5. Try something new. When you were a teen, new experiences were around every corner. These days, it takes a lot more to impress you. But one of the easiest ways to rev things up in the bedroom is by trying something new. Break out of your love-making routine by changing positions, choosing a different location or even varying the time of day (see: morning sex). Variety is the spice of life—so c'mon, spice it up!