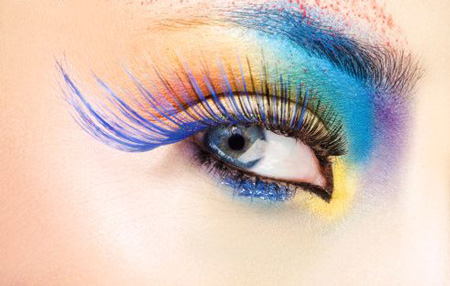 With summer here and in full swing, us girly-girls are busting at the seams to play with our fabulous bright and beautiful eyeshadows!
| by Air | 2011 |
But just in case you need a few fresh ideas on how to rock your gorgeous eye makeup, or maybe you need some ideas on what gorgeous eye makeup to wear, I'm here for you with the seasons hottest, newest, and most gorgeous eye makeup ideas! Keep on reading and get ready to be the star of summertime!
1. Play Matchy-Matchy
And just when you thought the days of matching your eyeshadow to your clothes was over! The key with this absolutely gorgeous eye makeup idea is subtle yet extremely effective. Opt for a sheer formula, and don't make it an exact match to your dress. For example, if you are wearing black, do a gray shadow. If you are wearing purple, do a plum shade and so forth. This will keep you from looking like you stepped out of the 80?s!
2. Dare To Be Bold
Neutral eyeshadows are all fine and dandy, but how about you break out of the box and do a smoky, dark look for daytime? You'll feel fresh and smoldering at the same time. Be mindful to wear nude or natural lips with your dark eye to balance it out. I love kohl and charcoal for smoky shadow, they make gorgeous eye makeup simply pop!
3. Don't Be A Chameleon
I will be the first to confess I love playing with colors and I often wear 25 or more eyeshadows at once. Ok, maybe not quite that many, but I do blend and mix multiple shadows to create depth, illusion, and one-of-a-kind colors. While this is all fine and dandy, sometimes we need the simplicity and innocent beauty that one shade can bring to our eyes. Do one color all over. Choose a pinky bronze, a peach, or a pale pink and wear it on your eyes, lips, and cheeks for a fab summer look!
4. Lip It Out
Here's a gorgeous eye makeup idea that I think gets overlooked many times. Wear a bright or dark lip, then put a completely nude shadow on your eyes and black mascara to finish off. Sometime natural eyes can pop more than you would have thought! Try it and see what you think before you veto it.
5. Metallic Mama
Don't pass by soft shimmery metallic shadows just because you don't think it's your "thing". Give everything a try before you knock it! The key to pulling off this gorgeous eyeshadow technique is to pick an eyeliner that's just one shade darker than your eyeshadow. You will be beautiful the moment you step into a room with peepers that shine as brightly as you do!
6. Somewhere Over The Rainbow
Color is not just for kindergarden and first graders. Never be afraid to play with colorful eyeshadows. Here is how to go about it – use the stair-step method. Choose one color, for example purple. You will need three shades. Apply the lightest (a silvery or very light shade) all over your eyes and up to your brow bone. Apply the medium shade ( a plum or smokier purple) in your crease. Last, apply the brightest color along your top lash line as eyeliner. Use a very small thin brush, and wet it down before you use it to get a deeper effect.
7. Be A Gem
While traditional blacks and grey will never cease to be sexy, sometimes we just need to mix it up a little. Opt for deep jewel tones instead of your regular blacks or browns. Amber, emerald and navy blues are very appealing and make a strong statement. Be sure and keep the rest of your makeup super neutral so that you don't look out of balance. There you go girl!
The most important thing to remember when applying make up is that less is more. Women have natural beauty! Let it shine through! On occasions that do call for more makeup than normal, make sure you wear the makeup. Never let it wear you! What gorgeous eye makeup ideas and techniques do you like to do?