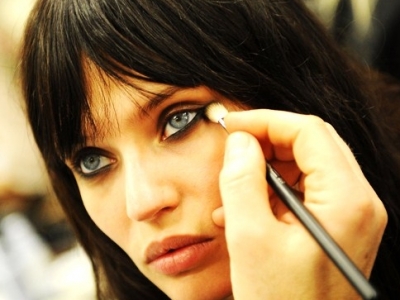 In order to ensure an even application of makeup there are certain makeup brushes to have and to hold.
| by Lisa Washington |
Of course there are lots of different ways to apply makeup, but using makeup brushes ensures that you don't transfer any bacteria from your fingers on to your face. Also, some types of makeup are hard to apply with anything other than a brush. Read on for the 7 vital makeup brushes that every lady should have.
1. Foundation Brush
You have to include a foundation brush on your list of makeup brushes to have. Even if you don't wear liquid foundation often, you can use it to apply skincare products or tinted moisturizer so it'll come in handy for more than just foundation. And for those occasions you do wear liquid or cream foundation, you'll definitely want to have this bad boy around for a smooth and even finish.
2. Blush Brush
It's hard to apply blush properly without a blush brush, so this is another makeup brush every girl needs. You can use the blush brush for cream or powder blush, to blend out bronzer, or for contouring. The blush brush is so nifty for blending color and making it look more natural. If you use your fingers to apply your blush or bronzer you can't always control the amount of product you apply on your face, so the blush brush is a must-have for your vanity!
3. Concealer Brush
The concealer brush is unquestionably one of the makeup brushes to have on hand. One of the top reasons to use a makeup brush is to avoid contaminating your skin. So, if you're using concealer to cover up a blemish, you definitely don't want to use unclean fingers to conceal a zit! Concealer brushes are also good for applying concealer to your under eye area, the brush can be much gentler on that delicate area than fingers.
4. Eye Shadow Brush
There are actually quite a few different eye shadow brushes for different methods of application, so you might end up having a small collection of this type of makeup brushes. That's okay though; makeup brushes are worth the investment, especially if you like to create different looks and want to make sure you have no harsh lines! Hit up a beauty supply or makeup counter and explore all of your options in eye shadow brushes before you commit!
5. Eyebrow Brush
Eyebrow brushes are one of the makeup brushes to have if you like to use brow powders instead of pencils. Sometimes it's easier to fill in and contour your brows with a powder rather than a pencil because it can be easier to control the amount of product you apply. Using an eyebrow brush to apply brow powder will ensure a more natural look than drawing on strokes of "hair" with a pencil.
6. Powder Brush
Another brush every girl needs is the powder brush. If you use any type of powder, pressed or loose, you've gotta have a powder brush to set your foundation and blend! Some ladies even like to apply their foundation with a powder brush to stipple on the product, but obviously you don't have to do that, just use what allows you to create the look you want to achieve!
7. Eyeliner Brush
If you like to experiment with different types of eyeliner, the eyeliner brush is one of the makeup brushes to have in your supply. If you desire a long-lasting liner and a dramatic look, gel liners are a fantastic way to line and define your eyes. You can also use this brush to apply cream liner which gives off a softer and more natural look that lasts much longer than pencils. Some people use the term gel and cream liner interchangeably since the packaging is similar, but the two products actually look different on.
Do you own any or all of these seven makeup brushes to have? When I first started using makeup I thought makeup brushes were strictly for professional makeup artists and it wasn't something that everyone needed. Boy, was I wrong! There's nothing worse than having harsh lines or an uneven application so makeup brushes are just as important as the makeup itself! What's your must-have makeup brush?