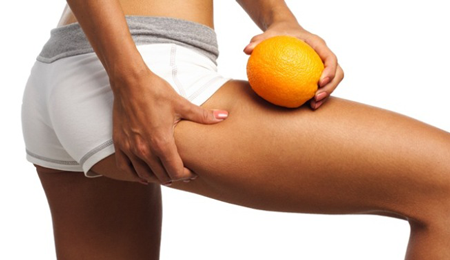 If you have stretch marks or striae on your skin, there's probably a good chance that you've researched ways to deal with stretch marks.
| by Lisa Washington |
This scarring on your skin can appear from a variety of reasons such as pregnancy, weight gain, weight lifting or growth spurts. While it might seem that they appear very easily, as we've experienced, it's not so easy to minimize their appearance! Keep reading for seven easy ways to deal with stretch marks!
1. Eat Healthy
One of the best ways to deals with stretch marks and live healthy is to eat healthy. Having a diet full of foods rich in vitamins and nutrients such as fruits and vegetables will help provide elasticity to your skin and could help prevent stretch marks from forming. Make sure you wash all that health food with water, too. Staying hydrated is key to keeping skin moisturized and supple!
2. DIY Olive Oil And Aloe Vera Cream
Many people will say that topical creams or scrubs aren't effective in fighting stretching marks, but then there are many people who swear by it. This next concoction is a moisturizing treatment for your skin that's said to also decrease the appearance of stretch marks over a few weeks. All you need are 4 tablespoons extra virgin olive oil, 4 tablespoons of Aloe Vera and 1 tablespoon of sugar. Mix it all together in a jar and place it in the freezer until it solidifies. Once it sets, rub it on your skin at bedtime.
3. Retinol
If you've got relatively new stretch marks that are less than six weeks old and are still red, you can try applying retinol topically to minimize the appearance of stretch marks. Using retinol on the skin can help minimize the color, rebuild the dermis and exfoliate older skin, all of which helps decrease their overall appearance. You can find skin care products with retinol in drugstores or by prescription.
4. Cocoa Butter
I think cocoa butter is the oldest way to deal with stretch marks and many women still swear by it! Cocoa butter can be a good preventive measure to be used to prevent stretch marks during pregnancy. Cocoa butter contains enzymes that can reduce damage to the skin's tissues, can help tone your skin and keep it moisturized so it's more pliable. Try Palmer's Cocoa Butter Formula Massage Cream for Stretch Marks.
5. Exercise
There isn't much that a good workout can't do and it's another way to deal with stretch marks. It might seem like working out won't do much for your skin but working out tones your muscles, which helps your skin look and feel better. Exercise also helps boost oxygen and blood flow to your skin, helps purge your body of toxins from sweating and helps rebuild skin-all which can make a difference in dealing with stretch marks!
6. Lavender Oil
Another topical treatment you can use as a way to deal with stretch marks is lavender oil. Lavender oil is one of the gentler oils and can be used to induce the growth of new skin to help reduce the appearance of stretch marks. Mix lavender oil with a carrier oil or a body butter and apply it to the affected area up to three times a day.
7. Vitamin C
According to WebMD, some formulations of vitamin C can increase the production of collagen in your body and help with stretch marks in the early stages. They recommend combining vitamin C with glycolic acid for best results. You can also talk to your doctor about adding 500 milligram vitamin C supplements to your diet.
These simple ways to deal with stretch marks can be an effective way to treat stretch marks at home. But if you find that your stretch marks are stubborn or you've had them for years so they aren't budging, you might want to talk to a dermatologist about laser treatment. Have you ever used at-home treatment for stretch marks?