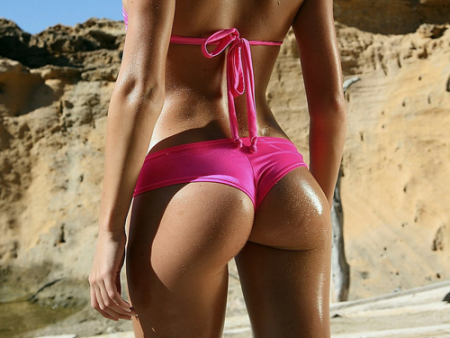 Lately, it seems like having a good looking booty is more important than anything else.
| by Holly R.

Instead of focusing all of your energy on finding the right #makeup for your skin tone and the right amount of cleavage to show off on a date, you should focus your energy on something a little lower. The booty is all the rage nowadays. Here are some tips for making it look amazing:
1. Wear the Right Underwear
The right underwear can make your booty #look better than ever. If you've never tried wearing thongs before, then now is the #time to try them. Unlike other types of underwear, they won't leave any unattractive panty lines. They might be uncomfortable at first, but once you get used to them, you won't even notice that they're there.
2. Say Yes to Yoga Pants
Men love yoga pants for a reason. They're an acceptable piece of clothing to wear in public, show off the shape of your #butt, and are super comfortable. There's no downside to them! So if you want to feel like you have the best booty around, invest in some yoga pants. You can buy them pretty much anywhere, but Victoria's Secret has some adorable ones.
3. Improve Your Posture
Your posture can change your entire #look, and when you wear heels, your posture will change without you even realizing it. The heels will force you to push your chest forward and your booty backward, which most #men find incredibly attractive. Even when there's no one around to ogle you, your confidence will be at its highest.
4. Exercise Often
There are plenty of exercises out there that will make your booty #look amazing. You can do squats, lunges, and leg lifts. The more often you do them, the better your #butt will look. Plus, exercising will keep you healthy, so you should be doing it anyway.
5. Be Picky with Pockets
The right sized pockets can complete your look. If you have a flat booty, you should buy jeans with decorations on the top of the pocket in order to place emphasis on that area, which will make you look rounder. If you want to make your bottom look smaller, then you should avoid super small pockets, because they'll make you #look larger than you are.
6. Buy Bright Colored Bottoms
If you want everyone looking at your derriere, you need to draw #attention to it. Instead of wearing a flashy shirt that everyone will #compliment you on, you need to wear brightly colored pants in order to draw attention toward your lower half.
7. Settle for Spanx
When all else fails, Spanx will always be there for you. There are tons of #different types now, so you're guaranteed to find a pair that works for you. There are some that will make you look thinner, but others that will actually add cheek size. No matter what you want your booty to look like, Spanx probably has a product that will help you reach your goal.
No matter how large or small your booty is, it's a beautiful one. Of course, if you want to show it off, you should follow these tips to make it appear better than ever. What other tips do you have for women who want their booty to look amazing?