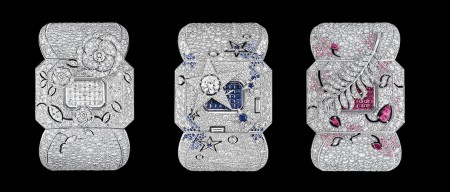 Chanel has pushed the boundaries to draw a thin between jewelry and time-telling device.
| by Eckert | 2015 |
The French luxury company has unveiled Les Éternelles high jewelry watch collection at Baselworld 2015 to cater to those who care to add bling as their middle name.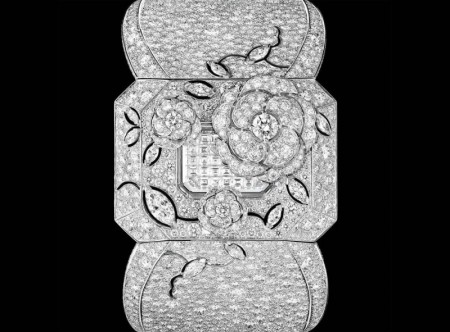 Les Éternelles De Chanel is essentially a collection of timeless watches that dazzle as artworks of sparkling gems. Inspired by the symbols dear to Gabrielle Chanel and displaying Chanel's expertise about haute horlogerie, these creations reveal their hidden dial with a movement of the hand.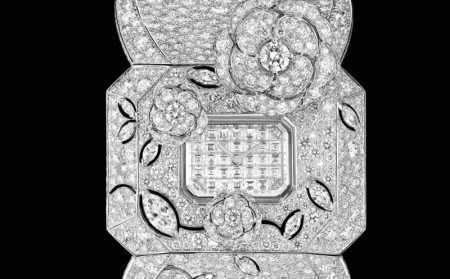 The bejeweled cuffs hold the watches in three enriching editions carved out of 18 carat white gold. Exclusively handmade in the Parisian ateliers of Chanel on the Place Vendôme, the secret watches highlight the three of the most cherished symbols of the house, namely the comet, the camellia and the feather.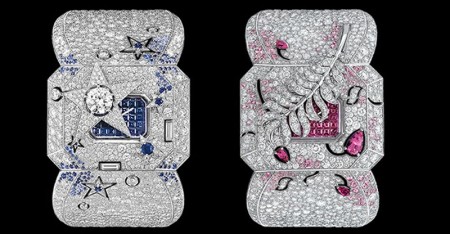 Paying homage to Coco Chanel's favorite flower, the Camellia watch stays true to its name and feautres three camellias on the cuff. Chanel has bought the glamour of a garden strewn with glittery leaves and flowers on to the watch by means of 45 carats of diamonds in a pavé setting. The mechanism of the "secret" is engaged by pushing one of the small flowers to displace the larger camellia, in turn revealing or concealing a dial paved with 34 baguette diamonds.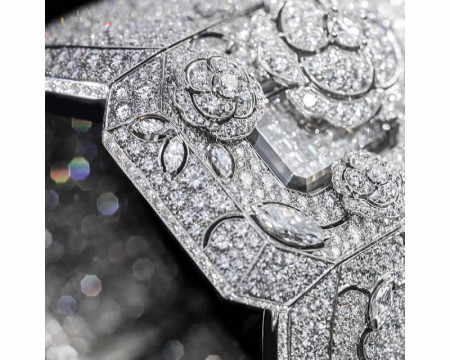 The Comet Secret Watch, which debuted in 1932, is caked with diamonds and sapphires to recreate a starry sky and a sparkling constellation of stars. A sapphire-studded star displaces the comet to reveal a secret dial paved with baguette sapphires, using a mechanism not unlike that of the Camellia Secret Watch.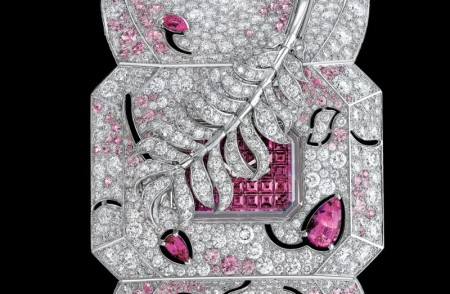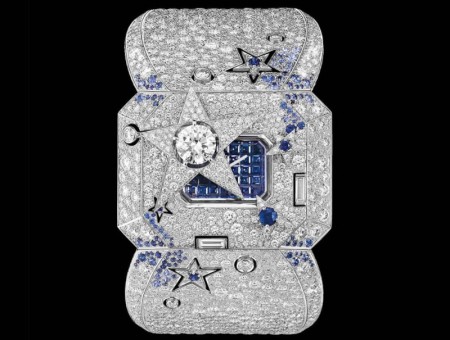 Lastly the Plume Secret Watch allows time to fly away opulently with a diamond-paved feather that rests on the diamond cuff, leaving in its trail pink sapphire droplets. When pressed, the feather reveals a secret dial paved with pink baguette sapphires.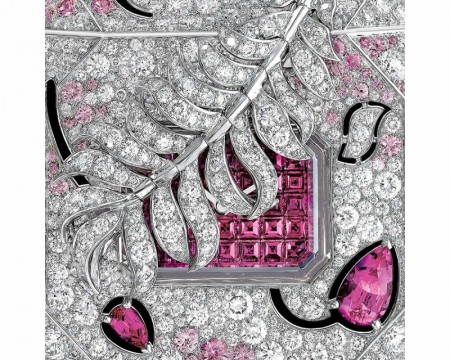 While four hundred hours were spent on shaping each Les Éternelles high jewelry watch, the house faced the greatest challenge of perfecting the secret mechanism that ensures seamless functioning and conceal its technical aspects.