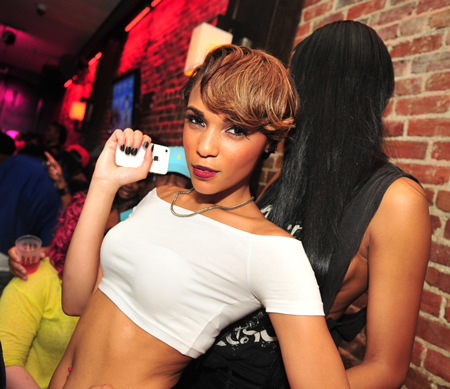 Ladies, do you need a little help picking out the best beauty essentials for clubbing?
| by Lisa Washington | //
When you're going out with the girls, you want your must-have items but don't want to drag a huge purse along. Good thing there are some incredible beauty products and clutch-friendly items that come in a small package but pack a powerful punch! Read on for a list of eight beauty essentials for clubbing you'll want to keep in your bag to ensure you stay gorgeous all night!
1. Hair Tie
Let's start off this list of beauty essentials for clubbing with one of my personal must-haves, a hair tie. You might start off your night with tousled waves or pin-straight hair, but as the night goes on you're going to want your hair out of your face. Keep a hair tie or two in your bag so you can easily put your hair up in a messy bun or pony tail when you tear up the dance floor!
2. Blotting Papers
Blotting papers are the perfect beauty essential no matter what the occasion. They come in a small, thin package and you can easily blot your skin without disturbing your makeup. If your face is shiny, don't use powder to cover it up or try to get rid of oil. It can look thick, cakey and unnatural. If you're caught in a bind, use napkins or a toilet seat cover to get rid of shine in a flash.
3. Lip Product
Lip stains and long-wearing lipsticks are best when you need your lip color to keep up with you during a long night of fun. However, if you're partial to glosses or tinted lip balms, those are fine too, just be sure you take it along so you can reapply throughout the night. Another thing you might want to tote along is a moisturizing lip balm in case your lips get chapped or dry.
4. Breath Mints Or Gum
Although breath mints and gum aren't a beauty product, they can be just as important when you're out and about. If you've had a few drinks or food, your breath just might not be as fresh as you'd like. Keep a pack of gum or mints so you'll be prepared in case you get into close contact with someone or you run into your crush!
5. Eye Liner
If you line your waterline with a pencil liner, it can easily fade after a few hours or after you work up a sweat. Carry a small pencil liner so you quickly can touch up your waterline or lash line. If you don't wear eye liner, you might find a small eye shadow palette or other beauty product for the eyes more useful. Whatever the product, make sure it's compact!
6. Nail File
A nail file might not seem like a beauty essential, but every time I don't have one is when I desperately need one! There are tons of different types of nail files that are small and easy to carry around so you can stow one away in your bag for easy access. Who wants to deal with a broken nail when you're trying to enjoy your night?!
7. Lash Glue
If you wear falsies, you might want to keep a small tube of lash glue in your bag. Lashes can come off at the most inopportune times and ruin a perfectly made-up face. Even if you're a pro at applying lashes and making them stay put, keep it around for emergencies. Lash glue comes in teeny tubes so they come in super handy without getting in your way!
8. Pressed Powder
Pressed powders can be one of the bulkier beauty products to carry around but they are convenient. Use pressed powder to reset your makeup or use the mirror to discreetly reapply lipstick or make sure your makeup is still on point!
Depending on what type of makeup you wear, your picks for beauty essentials for clubbing will vary. Whatever the product, make sure you choose compact products and products that multi-task to take advantage of the small space you have in your purse. What are some of your beauty essentials for a girls' night out?