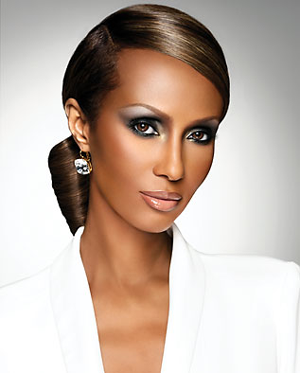 Are you interested in some makeup tips for African American skin tones?
| by Lisa Washington
Ipersonally believe that there shouldn't be any hard and fast rules for makeup, but there are some special considerations we should keep in mind when we get gussied up! Most African American women are lucky enough to have gorgeous skin that doesn't require much makeup at all. But for those who love makeup or just want some beauty tips for those occasions where you go all out, read below for some of the most helpful makeup tips for African American skin tones from the web!
1. Mix It up
One of the best makeup tips for African American skin and many other skin tones is to not be afraid to mix foundation colors! Darker skin tones look best with a foundation with yellow undertones, but avoid colors that are too light to avoid a chalky look. But for those who have a difficult time finding their perfect match, feel free to mix shades to create a customized color that's perfect for you.
2. Be Bold
I think one of the greatest things about African American skin tones is that you can wear much bolder colors, which often overwhelm fairer skin tones. If you feel comfortable wearing bold hues, take advantage and rock some fuchsia, gold or even orange shades to draw attention to one of your features. This will not only flatter your deeper skin tone but also show off your facial features.
3. Lip Service
When you're looking for shades of lipstick to wear, there are some key colors that really pop and complement African American skin tones. Look for shades such as maroon, reds, burgundy, peach, nude or plum. If you want to use a lip liner, choose one that's close to your lip color or one that matches your lip color. Avoid using lip liners which are too much of a contrast to your lip or lipstick shade.
4. Bronze Goddess
One of the beauty tips for African American women that isn't often mentioned but should be is to use bronzer. Bronzers can be used on a variety of skin tones and can do a great job highlighting your features as well as shading and contouring your face. Dust a bronzer on your cheeks, temples, chin or nose to create a beautiful glow!
5. Go Bright
Another makeup tip to keep in mind is to not be afraid to use color. There's a common misconception that darker skin tones should stick to darker makeup colors but that's totally untrue! As mentioned previously, wearing bold colors against deeper complexions is very flattering! The deeper the skin tone, the bolder the color you can wear.
6. Make Me Blush
Blush is another great beauty product to highlight features and African American skin tones. Blush not only enhances your cheeks but it can brighten up your face and make your face appear slimmer. Choose your blush color based on your skin tone. Lighter complexions look best in peaches, medium complexions look good in medium pinks and deeper complexions radiate in deep pinks and lighter reds!
7. Protect Your Skin
Beauty tips for African American women have to include skin care! Make sure you include a good quality sunscreen as part of your beauty routine to protect your skin from premature aging, sun damage and skin disease. There are lots of sunscreens made especially for your face that are lightweight and won't clog pores, so slather it on before you apply your makeup!
8. Flaunt Your Eyes
Aside from having fun playing up your makeup with bright shades, you can also do a lot to play up your eyes! Rock a bold cat eye, smoky eye or a more natural look. The key is to use complementary colors for eye shadows like deep blues and purples, metallic and nutmeg. Dark brown or black eyeliner and mascara can look great on just about every eye color and skin tone but don't shy away from colors, either!
I hope you find these beauty tips for African American women helpful. Some people might feel that all skin tones can follow the same general rules but each skin tone has its own unique features that should be showcased. Do you have any beauty tips for African American women that you'd like to share?