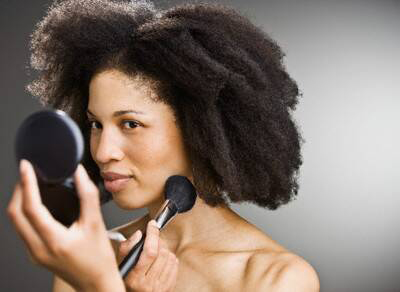 Although I don't wear makeup every day, I do enjoy using it.
| by Alison |
And I'm not alone there! Women have been using cosmetics for thousands of years, and there are many reasons why. Makeup can be really good for you …
1. Ego Boost
Do you know that feeling when you find the perfect lipstick for you? And you know that every time you put it on, you will feel really good? If you feel good, you look good. Makeup can really give you a major boost.
2. Skin Protection
Using a foundation or tinted moisturiser containing sun protection will help protect your skin from damage (some also believe that foundation provides some protection against pollution).
3. Quick And Easy
It doesn't have to take ages to put on your makeup. A simple makeup routine can make quite a difference, adding a little bit of polish to your looks. Unless you work in an industry where appearance is very important, less is more, so keeping it simple means that it won't take long to do your makeup.
4. Fun
Work may require a subtle look, but when it comes to your free time you can really have fun with makeup. Try a gothic or sophisticated look, or even go wild for a themed party. Anything's possible!
5. Experiment
With makeup, it doesn't matter if you get it wrong – you can just wipe off the mistake and start again. What if you buy a colour and it doesn't suit you? Look for other ways of using it – try using a shadow as a liner, or turning a lipstick into a gloss.
6. Variety
Makeup never gets boring. There is an endless variety of colours and products. You can use different colours every day if you like change.
7. Enhance Features
Heavy makeup isn't flattering, unless you're performing on a stage. Instead, makeup can be used to flatter your best features – and play down those you're not quite so fond of.
8. Cleansing
Using makeup regularly encourages you to get into a good cleansing routine. We all know that you should NEVER go to bed without removing makeup, so unless you're very lazy or very tired, spending those few minutes cleansing will leave you with clean, fresh skin.
So, are you a makeup devotee? How does it make you feel? Or do you prefer the natural look?