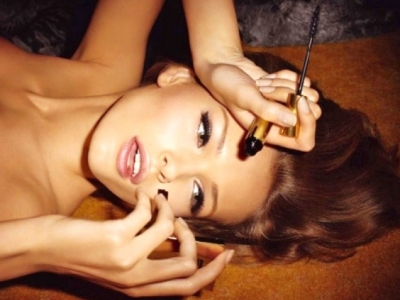 We often hear about the latest and greatest mascaras but what about the worst mascaras that we should stay away from?!
| by Lisa Washington |
With the thousands of tubes of mascara out there, I think we deserve some kind of guidance as to what others have found to be ineffective. That way, we'll know what to expect should we try bad mascaras out for ourselves. Girls should all help each other out, right?! With that said, here are 8 of the lowest-rated mascaras out there, see if your worst mascara made the list!
1. Maybelline Great Lash
I know that seeing this mascara on the list of worst mascaras will be big shock for some of you ladies. I know it's a classic and it has legions of fans but not everyone seems to agree. People have described this mascara as smudgy, flaky and difficult to remove. It's also been faulted with drying out too quickly so if you're new to Great Lash, keep these user's tips in mind before you buy!
2. NYX Faux Lashes Boudoir
Another popular brand that got the worst mascara award is NYX with their Faux Lashes Boudoir mascara. The product description says the formula is infused with fibers to lengthen lashes and is great for bottom lashes, too bad users don't agree! Ladies described this mascara as clumpy, runny and smudging very easily. NYX isn't exactly famous for their mascaras, so if you're new to the brand, head on over to their lip products and eye shadows, they are so much better!
3. Benefit BADgal Lash
It might be a shocker to see Benefit's BADgal Lash on this list of worst mascaras but it is! While BADgal Lash has a lot of fans, there are plenty of critics out there as well. BADgal Lash has been described as being too wet, smudgy, too natural-looking and clumpy. BADgal has its fair share of admirers so this one might be worth a try, but since it's on the pricier side at $19.00, proceed with caution!
4. Wet N Wild MegaPlump
A mascara that promises to provide up to 5x volume can't be a low-rated mascara, right? Wet n Wild's MegaPlump seemed like a promising product for under $5.00, but based on the product's poor reviews, it's hardly even worth the low price! MegaPlump was called clumpy, thin, flaky and drying, none of which we want in a mascara! No one really had any good things to say about this mascara so it's probably safe to say you're not missing out on anything if you pass on this one!
5. Revlon DoubleTwist
Revlon's DoubleTwist is unfortunately another bad mascara. This mascara received some positive comments for its lengthening and separating qualities. But, there was an overwhelming number of bad reviews that placed it on this mascara hit list! Smudging, flaking and a bad brush design were all to blame for its lackluster performance.
6. Stila Forever Your Curl Memory
Stila might the queen of the crème blush and lip glazes, but Forever Your Curl ended up being one of the worst mascaras. Forever Your Curl said that it would be long-wearing and instantly curl lashes, but the lack of rave reviews says otherwise! Some ladies had some good things to say about it, like how it defined and lengthened, but it was also called runny, smudgy and flaky.
7. Rimmel Glam Eyes Day2Night
Rimmel is responsible for this next low-rated mascara. The Glam Eyes Day2Night mascara features these two cool caps for lengthening and volume. While the tube looks like it can do some serious double duty action, users called this mascara thin, messy and said that it didn't provide any fullness or length. Rimmel makes pretty decent mascaras, too bad this one wasn't very useful!
8. Maybelline Define-a-Lash Waterproof
We had to include a waterproof formula of bad mascara on this list, and Define-a-lash was the unlucky one! This mascara actually won Allure's Beauty Editors' Choice award but surprisingly, got bad reviews. Mascara lovers said that the formula was dry, hard to remove and clumped soon after applying it. Maybelline makes tons of other winning formulas so don't be discouraged if this one let you down!
Have you ever used any of these worst mascaras? I'm pretty obsessed with mascara so unfortunately I have used some of these bad guys, but I've also used plenty of amazing ones too! What's the worst mascara you've ever tried? Is there any feature about a mascara that's a deal breaker for you?