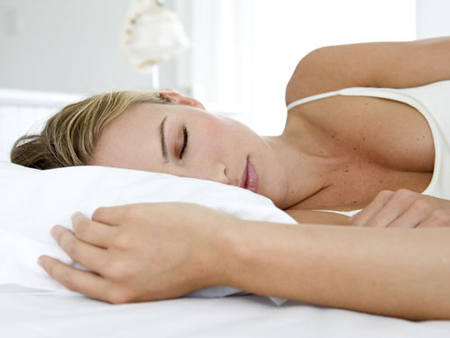 If you often find yourself pressed for time to primp and prep yourself, why not try out some of these beauty products to use while you sleep?
| by Lisa Washington
These handy overnight beauty products help you multitask by working overtime while you get some rest. What can be better than taking a few extra steps in your nighttime routine with these beauty products to use while you sleep, and waking up to a more beautiful you?!
1. Dr. Jart+ Water Fuse Water-Max Sleeping Mask
One of the best beauty products to use while you sleep is Dr. Jart's+ Sleeping Mask. This mask is actually an absorbable gel that creates a protective barrier on your skin to really lock in and envelop your skin with nutrients and hydration so you get the most out of your beauty sleep. Apply the gel on your face and leave it on all night to wake up to moisturized and revitalized skin!
2. L'Oreal EverStrong Overnight Repair Treatment
I love the idea of a hair repair treatment but leaving a treatment in my hair for hours at a time can be challenging. Good thing there are overnight hair treatments without the muss and fuss of traditional hair masks and conditioners! L'Oreal's overnight treatment is vegan and sulphate-free, yet is strong enough to condition, strengthen and improve your hair while you sleep.
3. Stimulash Fusion Intensive Night Conditioning Lash Enhancer Treatment
If you'd like to see a little boost in length, strength and volume in your brows or lashes, this overnight beauty product is for you. I know there are tons of lash and brow enhancers on the market so I'm usually pretty skeptical when it comes to enhancers, but this bad boy seems to have pretty decent reviews. Either way, it's a good idea to pamper your lashes overnight with some coconut oil or other treatment if you frequently wear eye makeup.
4. Qtica Intense Overnight Hand Repair Balm
Hand cream is one of my favorite beauty products. I love using it during the day for its nice fragrance and to moisturize my hands to avoid getting paper cuts. I also love to use it at night with a pair of gloves for an intensive softening and smoothing hand treatment. This overnight revitalizing hand balm helps combat aging while it nourishes, brightens and softens the skin on your hands.
5. Neosporin Lip Health Overnight Renewal Therapy
Let's not neglect our lips while we're sleeping! While it's perfectly okay to use a regular lip balm at night, this treatment is for those looking for some more heavy duty moisture and repair for chapped lips. With continued use, you can easily wake up to smoother, softer and healthier-looking lips that'll not only look and feel better, but will help lip products go on much easier!
6. Boots Botanics Overnight Hand And Nail Treatment
If you're looking for a less intense hand treatment than Qtica's hand balm, try out Boots' overnight hand and nail treatment. This nourishing cream is packed with oils, grapeseed extract and fruit acids to moisturize, condition and smooth your cuticles, nails and hands. Our nails and cuticles can always use some extra moisture and this is an easy way to knock out three beauty concerns with one cream!
7. Soap & Glory Heel Genius Amazing Foot Cream
I think we can all benefit from this next overnight beauty product to help us prep for sandal season! If you have dry skin or rough cuticles on your feet, slather this cream on before you go to sleep to wake up to silkier and smoother feet that you'd be proud to show off! Regardless of the season, you can use this foot cream to enjoy supple, healthy skin on your feet while you catch some Zs.
8. RoC MULTI CORREXION NOURISH Stress Repair Night Cream
We all have stressful lifestyles but if you start seeing the result of your busy and stressful life on your face, it's time for a more intense cream! RoC's Stress Repair Night Cream helps decrease the appearance of worry and expression lines, tension wrinkles and dry skin. Life is tough so let this intense repair cream help take some of your skin concerns away.
9. Alterna Haircare Caviar anti-Aging Overnight Hair Rescue
Here's another helpful and hydrating overnight hair treatment that goes to work as you sleep. This repairing hair treatment moisturizes and prevents future damage in your hair without leaving any greasy residue on you or your pillow. This product is safe for color-treated hair and you should see some visible results after using it a few times a week.
These nine beauty products can help shorten your beauty routine so you have more time for other things that are important to you! Overnight beauty products are not only a great time saver but they work while your body is resting and repairing itself, so it's an ideal time for more intensive repair and revitalizing. Do you use any overnight beauty products?