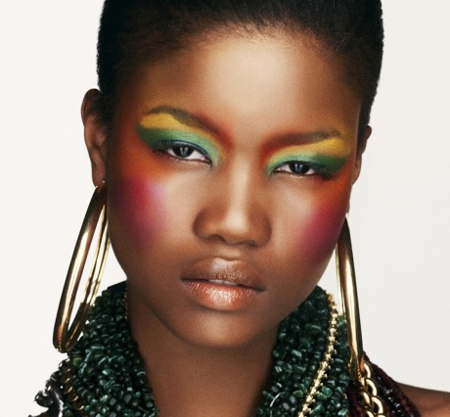 Now that spring has sprung, have you thought about ways to update your look for spring?
| by Lisa Washington |
Every season is a new beginning with new colors, beauty products and trends! If you're looking to try a new look or you just want to brush up on the spring beauty trends, read on for nine ways you can update your look for spring now!
1. Bold Brows
If you haven't jumped on the bold eyebrow bandwagon already, it's a fab way to update your look for spring! Thick eyebrows have been around for a few seasons already but the trend is still very much alive and well! Thick brows can make us appear younger and really frame our face. If you don't have naturally full brows, you can easily fill them in or use a growth treatment to regrow hair.
2. Pink Eye
Don't get scared, pink eye is NOT a trend! But using a pink blush or shadow around or under the eyes was seen on spring runways and is a very girly and edgy way to play up the eyes! The model in the photo is wearing a very subtle wash of color, but Donna Karan and Theyskens' Theory utilized a little more color all over the eye area. Either way, it's a totally fresh way to incorporate pink into your look!
3. Loose Waves
Loose waves are another trend that isn't anything brand new but this hair trend does not appear to be going anywhere! Loose waves are not only a very chic and pretty look, they're fairly easy to create with just a curling iron and you can wear them for just about any occasion!
4. Natural Lashes
If you're not fond of clumpy, heavily coated lashes, I've got good news! Many makeup artists are choosing a more natural approach when it comes to eyelashes and going easy on the mascara. You don't have to completely go without mascara, but look for defining and separating formulas rather than lengthening and volumizing to rock this trend.
5. Blue Lids
When you hear the term blue eye shadow, you automatically think of a really dated look and not really something to update your look, right? Well girlfriend, blue lids can be very modern and edgy! Wear this spring beauty trend as a soft wash of color on your lids, use a bold, cobalt blue eyeliner to create a modern cat eye or use it to boldly line your waterline!
6. Simple Hair
Another spring beauty trend to update your look is to wear your hair in an uncomplicated, no-frills style. Low ponytails, middle parts and wearing hair straight down were seen on the runways and are super easy ways to look chic and sophisticated minus all the fuss! Take a cue from Kate Moss and try wearing your hair straight and sleek!
7. Candy Colored Hair
Colored strands were spotted woven into sophisticated hairdos on models at Oscar De La Renta and Peter Som. Wearing candy colored extensions or dying your hair with streaks of color isn't new but it's a very bold, girly way to add pops of color into your hair! If you're the daring type, why not wear some of the new spring colors in your hair?! It's a fun, commitment free way to spice up your look!
8. Nude Polish
Nude nail polish is another spring beauty trend that was frequently seen on the runway. Nude nail polish a shade or two darker or warmer than your skin tone looks fresh and very chic. If you're sick of nail art, blindingly bright neons or pastels, give the nude nail trend a try. It's bound to match whatever you're wearing and it's appropriate for just about any occasion!
9. Matte Lips
If you're crazy about lip glosses, a really easy way to punch up your lips and update your look is to wear matte lips. Choose matte lipsticks in pretty, bright shades like fuchsia, red, and bright pink to liven up your lips while wearing seasonally appropriate shades. Velvety matte lips might be too heavy for summer but spring is the perfect time to wear the matte texture!
While many of these spring beauty trends were repeats of past seasons, it's still fun to tweak the trend and put your own twist on it! Many of the beauty trends seen on runways can be hard to pull off but I think all these beauty trends are wearable and very elegant! Do you get beauty inspiration from the runway? What spring beauty trend are you going to try?