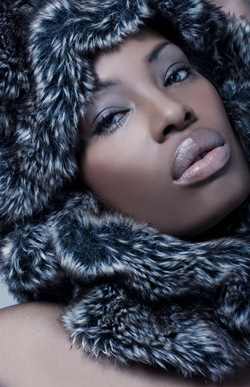 With legs for days and lips to long for, Betsie D. definitely has a killer look. There's no doubt about that. There are plenty of ad campaigns and runways to attest to that. So, it should come as no surprise why Betsie Dsane is this week's Elite Model.
| by Jan F. Lee |
Saks Fifth Avenue, Giorgio Beverly Hills, Nike, Revlon, Cosmopolitan and Ebony are just some of the companies that Betsie, 26, has done work for. She has also worked with industry players, such as Bruce Weber for an Abercrombie & Fitch campaign, and walked in fashion shows for the likes of Donna Karan, Vivienne Westwood and Jean Paul Gaultier.
When the 5'11" Ghanaian-Dutch beauty began modeling at the age of 18, her parents and peers were unhappy about her career choice (they wanted her to finish her studies and pursue a career in business). But she kept at it with a positive attitude and things happened for her. Friends and family quickly approved when she began appearing in magazines and ad campaigns.
If you see Betsie, you might do a double-take because of her likeness to the legendary model Naomi Campbell. "I have always been told I resemble her," she said, but "there is only one Betsie." And don't expect her to throw her cell at anyone. She's a fun-loving and outgoing person, who loves to make people laugh. "One of my bedrooms is a sunflower yellow and it's as if the sun is shining everyday," she said. "It's my favorite room." She's a modern décor girl, who has a big bed and loves feather pillows. "I have six [pillows]," she said. She is also often sought out by her peers for advice, which led to her newest business venture.
The LookBook Factory is a service Betsie started to provide guidance, create self-awareness and build the confidence of aspiring models. "I started this business because many would ask me to help them in some way, whether it be asking about photographers, how to walk, or simply how to get into the business. So, I thought I would provide a service."
Her next big venture: acting. It has always been her first love. Her roles so far include a part in the movie "How to Lose Friends and Alienate People." "It was only a quick glimpse, but nevertheless I was there," she said. She has also been featured in a commercial for H&M by Madonna—who happens to be one of her idols. More roles for Betsie to exercise her acting chops are hopefully coming soon. Children are another one of Betsie's loves. A big supporter of charities against cruelty to children, Betsie is in talks with organizations to work with underprivileged children.
A typical day for Betsie starts around 8 a.m. Then, there is checking emails, preparing for castings or meetings for LookBook, and usually ends up running around until about 6:30 p.m. When she has time, dinner with friends is in order. "I have a love for food and like most cuisines." Sushi is at the top of the list. She also likes to cook.
Out of all the places Betsie has traveled in the world, she has yet to go to Brazil. "I have always wanted to go to Brazil. I love the people, their kindness and zeal for life; their rhythm and love of music," she said.
On the night scene, Betsie enjoys dancing (she attends salsa classes every Thursday) and has just gotten into DJing. One fact about Betsie people may never guess about her: "I wanted to be an athlete. I played football (soccer) and wanted to play for England women's team."
In the future, Betsie wants to be a successful business woman running The LookBook and her shoe boutique. With her determination, we're sure Betsie would be successful at whatever she chose to do, but we're sure glad she chose modeling, putting those killer looks to good use.