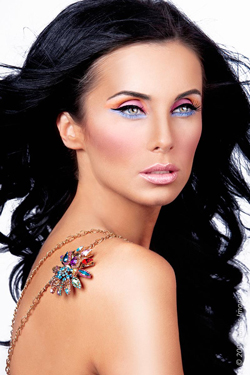 Armed as a triple threat with her beauty, passion, and humility, high fashion model Julia Chernetsky is SHY's weekly featured elite model of the week. Catching up with this beauty is an affirmation of how far a dream can travel.
| by Lucy Coutinho |
"Modeling is an art in which you need to just become this image: the pose and the emotion is what will make you a professional model," attests Chernetsky.
The words 'you should be a super model' were constantly uttered about Julia from her friends, family, and even passersby. It is no surprise to SHY when she says that her passion was always to become a professional model. "I love the camera, I love everything about beauty," she says enthusiastically. This dream goes far back to when she was a 13-year-old girl living in Russia. Focused on her path she attended a modeling school in her native land. Coupled with her natural talent, she honed the skills needed to pursue her passion.
Like many childhood dreams there may be stumbling blocks along the way and for Chernetsky, marriage and her two children took precedence over her modeling career. However her dream of becoming a model has only intensified with time. Chernetsky moved to Seattle, Washington eight years ago and it wasn't until two years ago that she began to actively model again. Recently featured in Seattle Fashion Week, she plans to grace more runways while continuing to build her portfolio. She has also been featured in the June issue of Seattle's D List Magazine. "The Seattle area is a challenge because it's not that fashion forward, however modeling is coming to Seattle more," she assures.
Chernetsky admits that work has not always come easy and that she had to work hard to find modeling gigs but after many photo shoots, she found that photographers started coming to her. Elated about the opportunities, she is humbled at how she has been able to pave the way to her dreams. "It's easy for photographers to work with me because I am a really friendly person. I do my best."
Her sights are set on high fashion modeling, "High fashion for me is something different that you don't see everyday. Something that is out of this world!" Chernetsky has a style that is refined and possesses a look that is unique. This 27-year-old sultry beauty is a firm believer that it is never too late to follow your dream. She is currently attending the International Academy of Design and Technology in Seattle, where she is pursuing her degree in interior design.
When asked what advice she would give to other aspiring models, she candidly says: "Believe in yourself and be natural. Never give up just follow your dreams. You will meet the right people in the right moment that believe in you just as you believe in yourself." And when faced with adversities in which she assures one will, "It is life and rejection will happen and sometimes it's not because you don't look good, it's that they are seeking for a different look." While adding, "Never be afraid of rejection and keep moving on."
Not only does she love beauty, she also enjoys making other people feel and look beautiful. When she is not walking the runway, she is a make-up artist. "If you look beautiful, you will feel beautiful and it will change everything in your life," she says proudly. She is a walking protégée of her own creations.
She is unstoppable as she aspires to someday open up her own company, after all she is in the business of making people look and feel their best. She hopes to move to New York City where she will continue her modeling career and try out for America's Next Top Model. Rest assured that you have not heard the last of Julia Chernetsky as she makes her mark.
Photos by : Kailas Images (cover)- Alex Lim – Xsight Photography – Dean from Vh1 The Shot
Makeup Artists : Sable Lee Cosmetics – Christine Moody