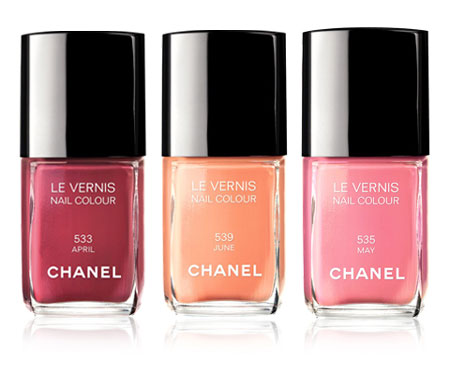 There has appeared some information about a mini-collection of nail enamels created by Chanel for the Spring-Summer 2012 collection. We expect the charming trio of colors!
| by Genuis | 2011 |
We adore Chanel enamels not only because of their quality. It is good that they are available for each season not in large collections of twelve or more shades, but mostly as well-balanced and trendy couples or trios. Because if we count how many times a year we use a new nail enamel, the quantity will turn out to be not so impressive. It seems that each new shade should be "to the point". Therefore we highly recommend to be guided by Chanel collections while choosing a color. They leave no room for a mistake.
Despite the fact that not all Holiday collections have appeared on the shelves, the ideas for the spring should also be considered. Since September Fashion Weeks have already taken place (and they were targeted at the Spring-Summer 2012 season), the new items have received their first portion of undivided attention.
Chanel is preparing a new charming trio for the spring. The three caramel shades are called "April", "May", and "June". It is the color of berry jam, soft pink shade, and the pastel shades of apricot. The so-called "June" shade (apricot) was at once assessed by the experts as the most striking novelty of the coming season.
Enamels will go on sale in January 2012. And you are inevitably longing for the summer the moment you see them!