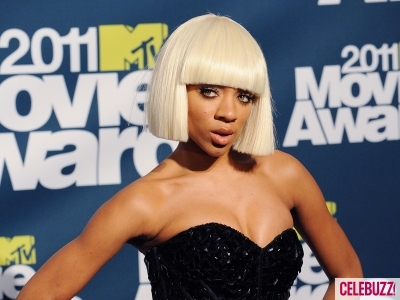 Lil Mama is hitting it hard and pulling at our heartstrings with her latest single "Hustler Girl."
| by Celebuzz | 2011 |
The song is dedicated to all the women who have dealt with adversity, she speaks from her heart and pours her pain into her music
The natural thing for people to do is make comparisons. I wonder how you feel about comparisons to other artists.
I'm not to be compared to anybody because I have a style that defines my personality and who I am and what I represent without any competition. At a time where popularity is ruling, people are going to talk about what's new and what's hot and what's coming up in comparison to what's there. I don't get offended at all and I allow people to think the way they feel no matter how much you try to convince someone of your beliefs, they always have their own understanding and beliefs. Everyone watches the same shoe and people make their own conclusions to what they've seen or to what I'm doing. Also, I take advice from my fans. When you take advice from the "real people," it helps you. It's not to get frustrated or shy away from the people because the people are the ones who make the career what it is and I love my fans.
Throughout your career, what do you think is some of the best advice that you've ever received?
Some of the best advice that I've ever received was my grandmother's advice to my father that was passed on to me and that is, you can be whatever you want to be in life and no matter what you choose, be the best at it.
One of my favorite shows is America's Best Dance Crew. I heard that you flew a fan out to see you at the finale. How was that for you when you get to connect with fans like that?
It's such an honor. It's overwhelming. It's beautiful. It's more than words can explain because they're inspired by what I do as far as music and television and when you meet people who really appreciate things that you've done, although to me, I really haven't done much because there's so much I plan to do so I feel like I'm just getting my feet wet. My career is an ocean of work and I just put my feet in the water close to the sand. When somebody embraces what you've done so far, it's beautiful to be able to experience and to also help them with things they they're dealing with to know that your yesterday is their today so you have to help people to inspire them to come out of the place where they are and to help them do better.
What is your favorite part about being on America's Best Dance Crew?
My favorite part about being on America's Best Dance Crew is the opportunity to grow to use my voice and to get inspiration. Being on the show for the past six seasons has helped me because I believe that I've gone through ups and downs and I think that although it's not a reality show, the world was able to get a reality of my hopes and grow with me because I was on the show. I think that the fans can watch my show and see how I'm doing and see what I have to say and where my mind is and where my heart is. For me, it has been a wonderful experience because I have been able to grow on the show and learn from other artists and myself.
Love this post?
Read also