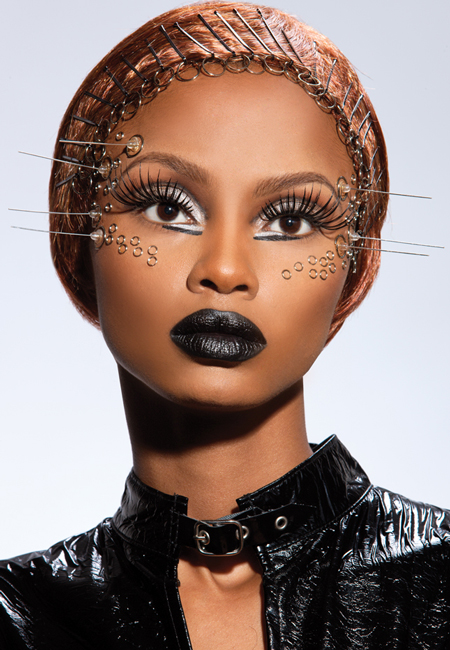 "One can hide away from the world inside the walls of your comfort zone where nothing challenges you, or you can make use of every second of your precious time to explore all that life has to offer.
| by Lucy Coutinho |
Endless worries of what could have been, clouds the minds of many, but one can take the steps to successfully prepare themselves for anything that comes along", says Mpenzi.
It has been a zealous journey for super model Elizabeth Mpenzi. A native of Kenya, her passion for modeling coupled with resilience has carried her thus far. There have been many road blocks along the way, but this was a sacrifice she has been more than willing to take. "I had to convince my family that this is what I wanted to be. It has been difficult, but every challenge makes you a better person," she assures.
Mpenzi began to flirt with the idea of becoming a model since the age of nineteen but had never really taken it seriously until one day she woke up and it hit her! At that moment she decided that she was going to "do this" and has been actively modeling since 2008.  She has traveled to various fashion shows in cities throughout the United States including Chicago, Las Vegas, Atlanta, and Los Angeles for editorial work. Mpenzi currently lives with her family in Baltimore, Maryland where she splits her time between traveling to New York City for model calls.
Most of Mpenzi's knowledge has been acquired from networking with various photographers, makeup artists, and hairdressers. Enthusiastic about her future, this African beauty has embraced versatility and demonstrates no fear. "I love trying many different aspects of modeling. It's an obsession," she says proudly. "I thrive in competing, as there is an energy and fire. It's through competition that we learn-I enjoy what I do!"
Finding the right agency and representation requires a lot of work and is often very challenging. However, Mpenzi has a growing portfolio that consists of commercials, editorials, high fashion and runway work, highlighting the diligence of her dedication. She has been published in various magazines: People's Magazine, Hype Hair, and Ultimate Weaves & Hair. She has also been the face of hair companies like Bronner Bros (Feb 2009- Aug 2009), Outré (Aug 2009) as well as product companies like Porselene Facial care 2008 and U (ooh) Skin products.?
With her sight set on her goal and desire to take her talent to the next level, Mpenzi will stop at nothing until she reaches the very top. "My goal is to become a mega-super model. I will not take anything less than that. I want to do this for life," she says. "I want to be known internationally and build my name, so coming back here will be easy to get work."
Beyond her pretty face and the burning desire to strive to be the best at what she does, resides compassion to give back to a place where she proudly calls home."God gave everyone an inner and outer beauty. God gave me this beauty and I want to give it back. I want to help kids in Africa, and be an ambassador for them-I love to help!" She explains of her goal to build orphanages around Africa, giving children hope to live, and a future in which their dreams can come to life.
 "I believe every day is an opportunity to raise your life to a higher level by giving the best that you have. Whatever it is you desire, think it, be it, support it and you will enjoy it in great abundance." –Elizabeth Mpenzi

[simpleviewer id="25″ width="450″ height="800″]