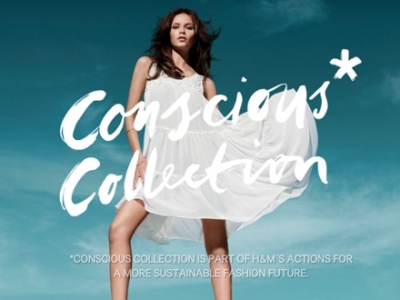 This week, H&M introduced their new Conscious Collection, giving customers an eco-friendly way to be stylish and chic!
| by Jennifer | 2011 |

The new collection launched April 14th, and features items for men, women, and children, all in shades of white, from brilliant sun-bleached hues to creamy ivories. Every piece is made of "green" materials, like organic cotton, Tencel® and recycled polyester.
Of course, I'm most interested in the women's collection, and all of the pieces are very romantic and feminine, with lace and Broderie Anglaise trim featured prominently. The line includes dresses, shorts (so cute!), tops, and skirts.
What inspired this new Conscious Collection?
"The possibilities for creating a complete fashion statement with eco smarter materials are huge now. By designing recurring Conscious Collections we have the opportunity to show in a variety of ways what's possible using more sustainable fabrics," says Ann-Sofie Johansson, H&M Head of design.
Preview all of the new Conscious Collection goodies at the H&M website, and then, once you've fallen in love with the gorgeous pieces, visit a store and try them on… and bring home a few! I'm lusting after that white maxi dress… which piece do you like best?