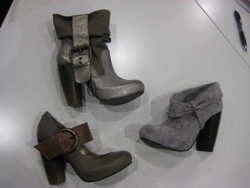 The ideal outfit. It's elusive and often hard to find. But shopping shouldn't be that way. You should be able to go to the store and actually find pieces to take home because they were all "so you."
| by Jan F. Lee | Shy M. |
Not only does it feel really good, but it makes shopping a lot less difficult and a lot more pleasurable. Well, we've found the mother load: 4NX¢.
Pronounced "foreign exchange," this new and vintage boutique for him and her carries brands from all over the world, like Japan, Paris, Africa and India (hence the name). The owner is a very picky buyer, who only selects pieces that are different and fresh, but will still last you for many years. Because of their origin and the limited quantity of each piece, it's highly unlikely to run into someone else wearing the same thing. The intent of many a trendsetter. Labels like Salvage, Sky, Division E, Toxic Waste and Free People line the welcoming Peach Butter walls. The vintage lines are by high-end designers, like Gucci and Chanel.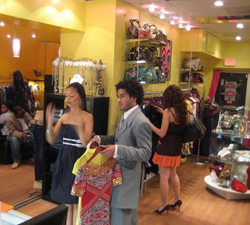 They carry everything for women. You could buy your outfit from head-to-toe, starting with a pair of funky bamboo earrings, a printed jersey maxi dress and ending with a pair of sexy stilettos. For men, there are metro tees, detailed button-down shirts and denim, which you can accessorize with silver jewelry. In the fall, they will carry hats and they might venture into a few pair of shoes.
But the best part of all is that everything is reasonably priced. The range starts at around $24 for a pair of simple sandals and around $300 for a winter coat (or a hot, Rihanna-esque leather bustier).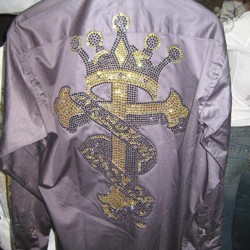 Customer service is taken very seriously around these parts. They make follow-up calls for every purchase. On your birthday, you'd get a b-day phone call, 20% off a single item in the store and a gift. "We get to know all of our customers. We know them by first name and even last name. We know what they like, what they don't like. We even have a list of customers that love for us to call them when we get a new shipment in," said the store owner. They also offer alterations and will ship orders when needed.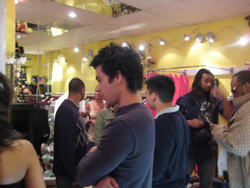 4NX¢ also offers image and wardrobe consulting, styling (they had Brooke Hogan and Shannon Briggs as clients), Xtreme Eyelash extensions in-store and mobile, make-up and hair styling.
While I was at the store, a customer was talking about why she always came back. And I quote, "I never leave empty-handed, and I only buy pieces I love."
That's the way it should be.
To shop, head on down to 1019 U Street or shop online at www.4nxc.com and their Ebay store.