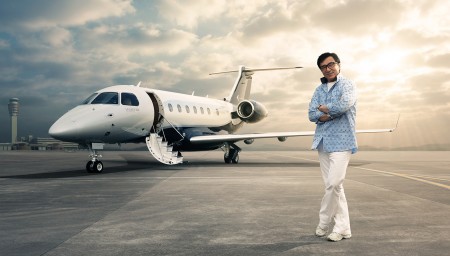 Actor and stuntman Jackie Chan has become the first customer in China to take delivery of the Embraer Legacy 500 business jet, which has a price tag of only $20 million.
| Celeb. |
"The Legacy 500 features our best-to-date technologies and it incorporates designs that maximize passenger comfort and fuel efficiency," Embraer Executive Jets president and CEO Marco Tulio Pellegrini said in a statement.
"I'm so thrilled to receive this Legacy 500, a state-of-art executive jet," Chan said in a statement.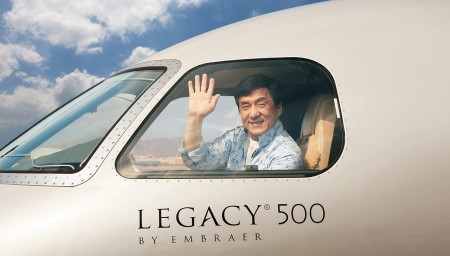 "In the past few years, my Legacy 650 has brought me fantastic traveling experiences and great convenience, allowing me to do more acting and philanthropic works around the world. I'm sure that the performance of the new Legacy 500 will again exceed my expectations, and become a comfortable mobile home and office for me."
A best-in-class carrier, the Legacy 500 is the first executive jet of its size to feature side-stick flight controls. At the vanguard of visual displays, the cockpit is equipped with a Rockwell Collins Pro Line Fusion avionics suite. The 12-passenger jet's 6-foot-tall, flat-floor cabin includes a surround-sound, high-definition entertainment system and eight club seats that transition to four beds for long hauls.
The Legacy 500 jet is capable of flying at 45,000 feet and is powered by two Honeywell HTF7500E engines, the greenest in their class.
Safe travels, Jackie!