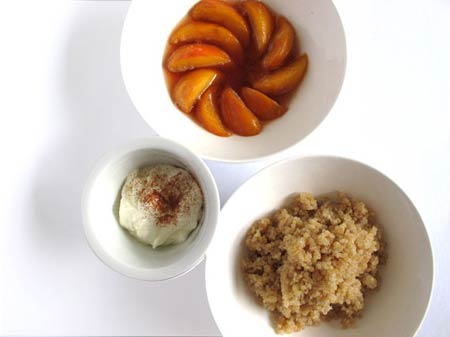 Have you ever seen a photo of food that totally changes your thoughts about said food?
| by Sarah Jio |
Now, I love quinoa, but I was feeling a little burned out on the ancient grain until I saw this yummy photo, and suddenly, I want it for breakfast!
I told you about my love of quinoa in the past (this salad was a staple in my house for months, in fact!). But then, well, I got a little quinoa-ed out, gals.
But now, suddenly, I'm craving this grain with ferocity again after seeing it as a star ingredient in the dainty little breakfast above viaSharon over at Test With Skewer, suddenly I want to drizzles it with maple syrup and serve it with yogurt and fresh fruit. Yum!
Refresher: Quinoa is naturally high in protein and has a really delicious rich and nutty flavor. A little higher in calories than other grains, yes, but we won't dwell on that.
Do you eat quinoa for breakfast? Doesn't this look yummy?