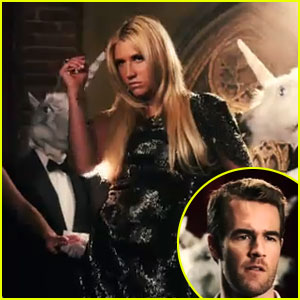 Check out the video for Ke$ha's song "Blow," which also features James Van Der Beek!
| by Just | 2011 |
The video begins with the disclaimer "no mythological creatures were harmed in the making of this video." Ha!
In the video, James is seen stripping out of his suit and even pulling a bra out of his shirt!
"Well, well, well … if it isn't James Van Der Douche," Ke$ha says in the video.
"I don't appreciate you slander-beeking my name, Ke-dollar sign-ha," James replies.
WHAT DO YOU THINK of Ke$ha's new video?