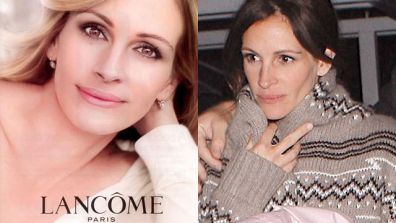 Cosmetics company L'Oreal has been forced to pull ads featuring actress Julia Roberts and model Christy Turlington after an advertising watchdog group ruled that the images were overly airbrushed.
| by FOX | 2011 |
According to a report from the UK Guardian, Britain's Advertising Standards of Authority (ASA) upheld complaints made by politician Jo Swinson about the photographs presenting a distorted reality.
Swinson has waged a long-running campaign against "overly perfected and unrealistic images" of women in advertisements. According to the Guardian, the ASA ruled that the ads were a breach of standards code for being misleading. They have been banned from future publication.
Roberts and Turlington are featured in the ads for Lancome and Maybelline foundation, respectively. Swinson reportedly claimed that the images weren't "representative of the results the product could achieve."
But L'Oreal, who admitted that the images had been "digitally retouched," said that the ads still showed signs of ageing and that the photos "accurately illustrated" the product's potential results.
The ASA was not able to review Julia Robert's unretouched photos due to a contractual agreement between her and L'Oreal, the Guardian reported.
"It shows just how ridiculous things have become when there is such fear over an unairbrushed photo that even the advertising regulator isn't permitted to see it," Swinson said before adding that Roberts and Turlington don't need retouching.