Shy Magazine caught up with one of fashion's up and coming shoe designers, Shan Lachel!
| by Krystle B., Fashion Writer | Photography by: Becky Siegel | 2013
The new Comic Stilettos (www.comicstiletto.com) has caused quite the viral fashion storm and we got to pick the brain of the woman behind this new unique line! We really do love these shoes!
Based out of D.C., the shoe lover turned designer discusses her penchant for producing, styling, photography and how it led to designing one of the most animated shoe collections, available online this spring 2013. While she is gaining high profile clients from Hollywood Actresses to "Real Housewives," her most important client is the everyday consumer who she describes as "daring, unafraid, and fashionable." Check out the full interview below.
1. Tell us about your background. Where are you from?
I'm originally from Memphis, Tenn but have lived most of my adult life all over, DC, LA, San Francisco! I spent time traveling, shooting photography, and styling, it was a really fun time being nomadic.
2. Do you have a background in design?
I've always been interested in design and created things as a hobby when I was photographer. My
background is in art/creation, so whether I'm trying to produce, direct a short, produce a show, style, photograph, or design. I don't believe in just having one thing you have to do or focus on, there's just so much to do and try in life.
3. What inspired you to create this brand?
I was at the moment into trying out my directing abilities on fashion films, and had a really animated idea of creating color on the model all over, from head to toe. I always loved the way guys got their custom vans made and just began paint on my own stilettos. I posted my prototype online, people loved it, and thus Comic Stiletto was born!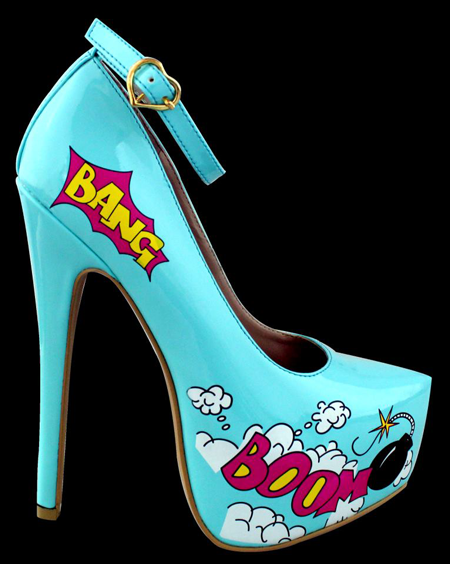 4. Did you always want to be a shoe designer?
I always wanted to design, I am a shoe lover like most women, but honestly never really thought about designing shoes. I love elegant gowns and long dresses, that's what I always figured that I would end up doing if I were to design anything. I suppose the shoes are just a stepping stone to me designing dresses.
5. How would you describe your personal fashion sense?
I'm not hung up on expensive labels or names. If something looks nice, no matter where it comes from, I dig it. I'm also not consistent with my style. I love it all. Old school glamour, wild and crazy street fashion, and some high fashion. One thing about me is this, you'll probably never catch me in sneakers, although I'm a bit of a feminine tomboy, I absolutely love heels. Even when I shot photography, I shot in boots with a heel on them.
6. How many pairs of shoes do you own?!
LOL, a lot. I appreciate the art of shoes, even if I know I probably wouldn't wear a shoe out, if it's beautiful to me, im buying it.
7. What all goes into making a shoe? What is the process?
The process is so intricate and tedious, even down to selecting the packaging for the product. I'd be here all day explaining how tedious it is, but it really gives you an appreciation for things. Now I just look around my flat and I'm wondering, wow how was this made. Or when I go out, I look closely at products and wonder how they made it. When I started designing shoes, I literally didn't know what the hell I was doing. We made so many mistakes, lol. I remember the first prototype we got back, we spent like $1500 on that one pair and we were like what the f**k is this?? It was so ridiculous that instead of being pissed, I just had to laugh at it. Its like, you have to find the right company to help you with your product. There are so many manufacturers and middle men that you really have to be 100% specific about what you want, even down to a pantone color code, an inch, everything. Luckily, we were able to find an awesome company, Otabo (shout out, lol) that we absolutely love, it's almost like fam to me now. They care about their customers and im no pushover, so they dealt with my very assertive business personality very well and gave me what I wanted. I love those folks.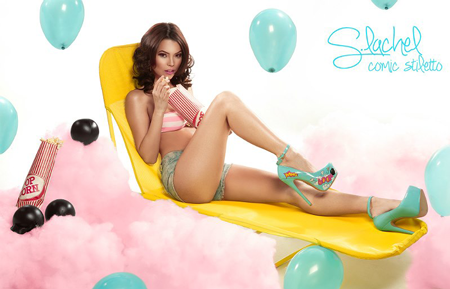 8. Your shoes have a lot of personality! How would you describe your design aesthetic?
I love animation! I am really on this funky street fashion colorful style. I've always loved it and so happy to see it become more mainstream, this line is right on time for that!
9. Do you have a motto when it comes to shoes?
The higher the heel, the closer to God, lol.
10. Who is your customer?
I think my customers will be chicks like me. Daring, unafraid of something different, fashionable, and not all hung up on labels. They like what they like and they make items look good no matter the price, not the other way around.
11. Any particular super-hero and/or comic book that inspires your aesthetic?
Not really, I just love the funny animated comic words, BOOM, SPLAT, CRAK! I have a CRAK
lightening bolt shoe coming out next, its a super hot design, can't wait to show. I also have some graffiti pump designs and melted cupcake stiletto designs. They're going to be colorful, sexy and fun! Oh, my favorite super hero is Cat Woman of course because she is mysterious, clever, has sex appeal and doesn't put up with crap.
12. Where can we purchase Comic Stilettos in 2013?
We're selling strictly online for this first run, we're excited.
13. What is the price point for Comic Stiletto?
This will depend on the design, we're going to spike out some of our designs and do some other extra cool stuff to them. The BOOM pump will retail at around $150 but it will be limited edition.
14. Is it true that A "Real Housewives' of NJ" cast member will be featured wearing your shoes in the upcoming season? Any hints on who?!
That's the plan, let's see if it holds! One of the show's occasional cast members lit that fire, it was actually her idea. As for who'll be wearing can't say who 😉
15. Who is your celebrity dream client? Which Comic Stiletto shoe would you like to see them in?
I have a few celebs that will be wearing CS when we launch, Denise Vasi from VH1's single ladies is gorgeous inside and out, she has a pair already, can't wait to see her in them. I rushed ordered her a pair. It's not just about seeing celebs in my line though. I appreciate this movement of regular people creating their styles and wearing what they like because they like it and not because some celebrity is wearing it. Hell, how about we reverse that and let the people create the trends that the celebrities wear, lol wouldn't
that be nice?
16. What would be the best outfit or occasion to compliment the Comic Stiletto shoe?
I think that really depends on the person. I think they're going to be great for the new colorful bathing suits and those swim parties.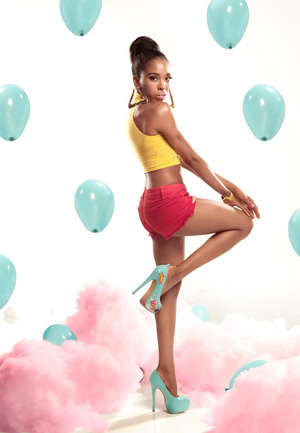 17. What has been the most challenging aspect of being a new shoe designer?
I think the most challenging thing for me is actually creating the shoe I envisioned in my head. We went through so many prototypes and I'm a perfectionist, so I'm like, no, no, nooooo….there are some limitations with graphics on shoes but I think we did well for our very first design!
18. What advice would you give for aspiring shoe designers?
Stay focused, be different, find a supportive/positive circle of people, and do your research!
19. Any plans on expanding your brand/collection? What's next for the future?
Absolutely!! I already have a list. Comic flats, Comic handbags, Comic word animated watches, the
list goes on and on. I want to create a children's line too. I remember a friend telling me that her young daughter saw my design and the shoe and said when she grows up she wants to wear a shoe just like that, lol. I thought that was so cute, but luckily for her she won't have to wait that long!