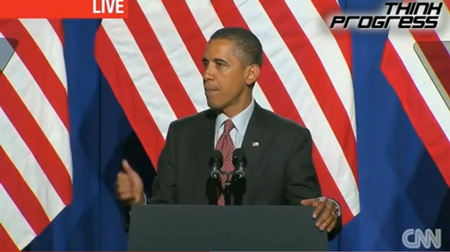 Last night President Obama spoke at an LGBT rights fundraiser in New York City, which is noteworthy because the New York state Senate is currently on the precipice of legalizing gay marriage.
| by Jessica Wakeman | 2011 |
In his speech, Obama addressed gay and lesbians' fight for equal rights and said it is up to each individual state to do the right thing. "New York is doing exactly what democracies are supposed to do: there's a debate, a deliberation, about what it means to treat people fairly in the eyes of the law," he said.
"That's the power of our democratic system. It's not always pretty. There are setbacks. There are frustrations." In my heart I know the president is right about the process, but I wish it didn't have to go so slowly. I wish he could just issue an executive order or something and declare once and for all that bigotry is not an American value.
What do you think about what Obama said?