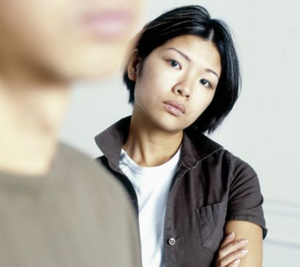 The other day, I wrote a blog on complaints men have about women and I have decided that it is time for the women to take a shot!
| by Melanie |
Of course, many of these complaints on here are not from me. Actually, none of these complaints are from me. I read blogs, articles, forums and magazines a lot. I also talk to friends and my team of writers a lot and they always open up to me about their relationship. Out of all of them, I have came up with top 20 complaints women make about men. Of course, not all women will have these complaints, but sometimes, a man will give a woman the right to complain.
20. All He Wants is Sex
19. He Gets Angry Easy
18. He Leaves His Dirty Clothes Everywhere
17. He Doesn't Return My Calls
16. He Doesn't Shave
15. He Plays Games too Much
14. He Doesn't Spend Enough Time with Me
13.He Eats As if There is No Tomorrow
12. He Burns Noodles
11.He Has a Bad Memory
10.He Doesn't Help with the Baby
9. He Doesn't Communicate
8. He Sucks at Managing Money
7. He'd Rather Go Out with His Friends
6. He Does Not Know How to Dress
5. He Drives Like He Got His License from the Cereal Box
4. Sex is Too Fast
3. He Does Not Spend Time with the Children
2. He Watches Sports Too Much
1. He Won't Open Up About the Way He Feels
Looking through my list, it looks like some guys get in trouble, but i'm sure there isn't a guy out there that does all 20 of these things. Right? If you do number 15, then you're probably going to do number 12 as well – while you're doing number 15. lol. If number 4 is going on with your man, then perhaps it is time to try some techniques to help with this problem. If number 3 is what is bad about your man, then you need to sit down with him and tell him how important it is to have a relationship with the children. Now, if he does not know how to dress, then you shouldn't pick on that. You should like your man for who he is, not what he wants to be and if he doesn't dress to your liking, then that's not something you should try to change. Now, for number 5, you should show him some pictures of accidents. Trust me, I have witnessed cars after they have been wrecked. I have even saw bodies laying in caskets after they have been wrecked – talk to your guy about driving safe and explain to him just how important it is. So, with this top 20 list in mind, which one of these from the list do you complain about? If you have no complaints from this list, do you have anything you would like to add to my list?