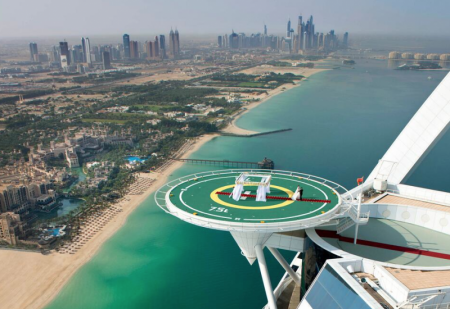 If you are set to take your love to a higher level, then exchanges vows at 212 meters above sea level.
| by Joan Stern \ 2014
Burj Al Arab, the sail shaped hotel in the Middle East has raised the stakes of the excitement of getting married to a much higher level.
Dubai's seven star hotel is offering an opportunity to say "I DO" to your loved one on their iconic helipad which rises at 212 meters above the azure Arabian Gulf.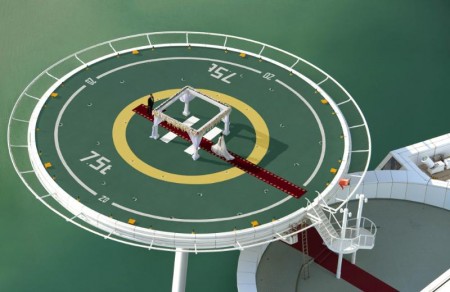 Designed by a Wedding Architect, each ceremony will be supervised carefully with the designer being available 24/7. With the starting price of $55,000, the high-on-the-sky marriage package includes a drive to the hotel in a Rolls Royce Phantom or fly to its top in a helicopter, an Italian twin engine Augusta 109. More opulence awaits inside one of Burj Al Arab's 202 suites booked for the couple. The hotel also offers private tasting sessions with their award-winning Executive Chef Maxime Luvara and an opportunity to customize the wedding cake with their executive Pastry Chef Johannes Bonin. Head Sommelier Dimitar Dimitrov will be at dispose for beverage sampling and advice.
The couple who intends to take the plunge at that height will also be indulged with a specially designed wedding scent developed by a leading perfumist and relaxation, beauty treatments along with private sessions with celebrity personal trainers at Talise Spa. The wedding couple can also top the fashion charts as the opportunity of shopping and styling sessions with personal stylist and access to top haute couturiers along with private after-hours access to top luxury fashion brands is included in this over the top package at Burj Al Arab.
Burj Al Arab General Manager, Heinrich Morio, states, "We're always looking for new and special ways to delight and enchant our guests. We believe a once-in-a-lifetime event deserves a one-of-a-kind venue and are thrilled to add this special location to our ultimate experience collection."
The helipad at Burj Al Arab is renowned for hosting one-off events that have set records. While in 2004 Tiger Woods teed off the helipad, in 2005, Roger Federer and Andre Agassi challenged each other to a game of tennis at the same venue. Also in 2011 Rory McIlroy performed a hole-in-one at that height. The latest feat to be accomplished at 212 meters above water is by Formula One Champion David Coulthard as he performed donuts in a Red Bull Racing car in 2013.
The Burj Al Arab's Wedding in the Skies program starts at $55,000. More info at Burj Al Arab