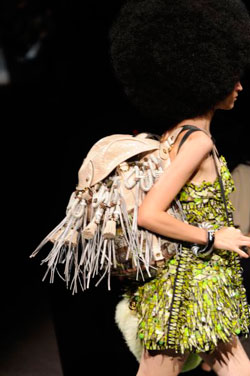 Sad but true: I haven't carried a proper handbag since fashion week.
| by Jenny Feldman |
I always make an effort during the shows because I don't want to be that girl schlepping the huge, bottomless, dirty tote bag spilling out with receipts, random shoes and pacifiers (hello, I'm a mom!). But the truth is, I am that girl and not the girl with the quilted Chanel. Okay, I have a quilted Chanel too—and lots of other nice bags—but they fit only about .2 % of my life. So, usually, I go to work with a ginormo canvas tote; on a bad day, I've got two of 'em.
That's why lately, ever since I saw the Louis Vuitton show in Paris, I've been considering investing in a chic backpack. Check out the stylish options the folks at Refinery29 unearthed and my picks for purse alternatives—including roomy totes, oversize clutches and old-school backpacks.
What are you carrying instead of a purse these days? Do you have an not-handbag that serves as a handbag? If so, what do you love about it? Would you ever carry a backpack? Discuss.