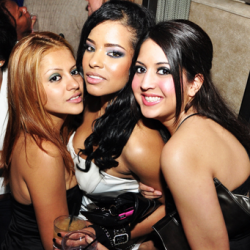 Yellow lights spill from the entrance onto 14th St. NW, just blocks from the U St. Corridor.
| by Lucy Coutinho | Dec. 09 |
Since it's opening in March 2009, Policy's unique walls adorned in graffiti, and elegant chandeliers create the perfect blend of an urban scene intertwined with sophistication.
As a multi-faceted venue, eclectic hipsters come here to dine, wine, and party the night away. This trendy new spot has since lured the curiosity of patrons that aren't afraid to flirt with experimentation.