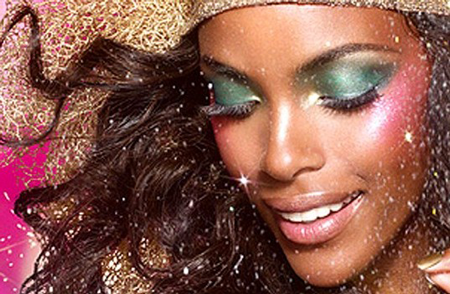 Try out these easy yet eye-catching holiday beauty ideas to add some oomph to your everyday beauty routine or wear out to a special occasion.
| by Lisa Washington \
You can do so much with makeup and part of the fun is experimenting and trying out to new shades and techniques! Make your holiday season even brighter with these 7 festive and fabulous holiday beauty ideas.
1. Bright Lips
One of the most common holiday beauty ideas is to wear a festive red lip. But what if you don't like wearing red or are just tired of it? Well, why not try a hot pink or bright lavender lipstick instead? Both colors will make lips stand out and they're just as cheerful and merry as the traditional red color. If your forever faithful to red lips, why not try a different shade or tone and switch things up?
2. Exaggerate Eyes
A really fun beauty idea to try out any time you have a special event coming up is to do some fabulous faux lashes. Faux lashes can instantly take your eye makeup look from sweet to seductive and then some! If you're new to wearing lashes, try out a few different styles before you actually wear them out so you're comfortable wearing them. If you're a faux fringe veteran, how about trying some of the flashier types like the ones by Paperself or Sephora?!
3. Sparkly Nails
Painting my nails is one of my favorite beauty pastimes and this holiday season, how about giving yourself a dazzling manicure with some sparkle? There are many ways you can rock sparkly nails, you can do a simple mani with fine glitter nail polish, magnetic glitter polish, a chunky glitter top coat or holographic nail polish. Don't worry, there are many ways to rock glittery nails without it looking childish!
4. Bright Lids
Our lips and fingertips aren't the only places we can get bright and bold, let's not forget our eyes! Ditch the traditional brown or black smoky eye for awhile. Check out rich, jewel-toned hues like green or blue or even try out amazing multi-toned eyes as seen in many of the fall fashion shows. Brightly colored eye lids are daring yet festive and are sure to turn some heads!
5. Themed Nails
If you're a sucker for nail art, why not try some fun holiday themed nails this season? You can pretty much draw on whatever you can fit onto your nail! Think lights, candy canes, snowflakes, or try your hand at some Hanukkah or Kwanzaa themed nail designs! Do a couple of accent nails and paint the rest a pretty solid color. Or, if you've got shaky hands like me, try nails stamping or polish strips to get in the holiday spirit!
6. Switch Styles
Don't forget about your hair! You might be busy doing your makeup and getting dressed but your hair style can surely make or break a look. This holiday beauty idea is to switch up your hairstyles. If you always wear romantic curls, try some flowy waves. Do you always wear your tresses down? Why not rock an up-do and show off your neck? Try something new and keep everyone guessing!
7. Shine with Shimmer
An easy way to make skin glow and glisten this winter is to use shimmer. Try using shimmery eye shadow, cream illuminator, shimmer powder or a highlighter the area under your eyes, along the nose or cheek area. You don't have to use a lot to get a noticeable effect and it's best if you don't overdo it or you can run the risk of looking shiny or aged.
There are many ways you can punch up your look this holiday season and I hope you try out some of the aforementioned suggestions and enjoy your look! The holiday season is about celebrating and spending time with loved ones so while it's important to look good but don't forget what it's all about!