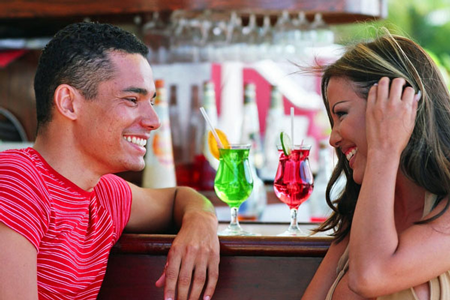 With the economy the way it is, you may think that you can't afford to surprise your sweetie with well planned dates as they can be quite costly, but trust me, you can plan fantastic romantic dates that cost nothing.
| by Jenny O'Hara |
You can use things you already have and places you can go for free to create an affectionate atmosphere that will bring you two closer. If you're trying to keep more money in your wallet, but still want to plan out special dates for that special someone, check out these romantic dates that cost nothing.
1. Photo Tour
Romantic dates that cost nothing don't have to be boring or mean that you have to stay home. Take a walk with your partner around the area where you live. Find all of the interesting or beautiful settings in your locale and hold an impromptu photo shoot in each location. You can take turns taking pictures of each other or snag a stranger and ask them to snap a few shots of the two of you. Make your pictures adorable and sweet or cute and silly, but above all, have fun!
2. Living Room Picnic
You can always have a picnic in a park, but if the weather is uncooperative or you want to have a romantic picnic dinner, the best place to do it is your living room floor. Lay a nice, comfy blanket in the center of your living room, or the corner if you both want to be able to lean against a wall. To add a romantic atmosphere, set lit tea lights or votives around the room (using caution and common sense, of course). Cook something you know how to make well and use fancy plates as place settings. Play some light music in the background. If you have white Christmas lights handy, they also add to the ambiance.
3. Rooftop Stargazing
If you have easy access to a portion of your roof, it makes the perfect intimate setting for a romantic stargazing date. Spread out a few blankets on the roof. Allow the conversation to flow freely as you and your love cuddle on the rooftop looking up at the twinkling night sky. If you don't have safe roof access, you can use your lawn or deck, or drive somewhere secluded and lay on the hood of your car. Stargazing is surprisingly romantic, so snuggle up close and enjoy!
4. Release Your Inner Child
No matter where you are there is most likely a park or elementary school playground nearby. Most schools allow the public to use the playground between the end of the school day and dusk. Have fun running around, sliding down the slide and pushing each other on the swing set. No matter how old you may be, this is sure to elicit giggles and raise your spirits!
5. Brewery Or Winery Tour
I live in a very small town, but there are still four wineries and two breweries within an hours drive from me, so I'd bet there are at least one or two near you as well. Most breweries and quite a few wineries offer free tours which include free beer or wine tastings. Attending one of these gets you out of the house, provides free entertainment and best of all, alcohol! Check online for locations in your area and contact them to see if they offer free tours, it's well worth the minimal amount of time it will take you to find out.
6. Amateur Entertainment
Most high schools have plays and concerts several times throughout the year. A lot of them are open to the public and don't charge any fee (some charge a minimal fee, so you'll have to check). Open-Mic nights at local bars or even amateur night at coffee houses are other great ways to take advantage of the amateur entertainment available. If you're looking to go totally free, make sure you eat before you go so you're not tempted!
7. Game Night
No matter what your age is, digging out a bunch of games and playing the night away is fun! If you don't have any games in your home, create your own! Take index cards (or cut up squares of paper) and write questions on them such as "What do you admire most about your partner?" After you have lots and lots of cards made up, mix them in a pile and ask each other the questions. Keep the questions positive, this isn't an opportunity to find out what your partner dislikes about you, it should bring you closer. If you need help thinking up questions feel free to use google – I do!
All of these ideas for romantic dates that cost nothing will help you and your sweetheart spend quality time together without breaking the bank. At no cost, you can use one of these ideas each day of the week! What free dates have you planned or gone on?