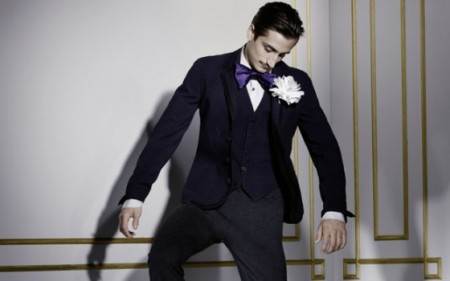 Here's the official news from H&M and the first look at the designs…
| by Pursuit | 2010 |
H&M is proud to announce that its next designer collaboration will be with Lanvin, one of the most influential brands of the 21st century. Designed by Lanvin's artistic director Alber Elbaz, and menswear designer Lucas Ossendrijver, the collection will go on sale on November 23 in around 200 H&M stores worldwide. The collection of both womenswear and menswear will be revealed to the world on November 2, just three weeks before the clothes hit the store, making the launch of Lanvin for H&M among the most anticipated fashion events of the year.
"H&M approached us to collaborate, and see if we could translate the dream we created at Lanvin to a wider audience, not just a dress for less. I have said in the past that I would never do a mass-market collection, but what intrigued me was the idea of H&M going luxury rather than Lanvin going public. This has been an exceptional exercise, where two companies at opposite poles can work together because we share the same philosophy of bringing joy and beauty to men and women around the world." Alber Elbaz, artistic director of Lanvin.
"We are thrilled about Lanvin's collection for H&M, it is such an exciting moment. Lanvin will bring to H&M a luxurious French tradition that is also modern and playful. It is very much a Lanvin collection, using their cut and tailoring, with lots of focus on form and details for both women and men. The launch in November is going to be full of wonderful surprises." Margareta van den Bosch, creative advisor at H&M.
Since joining Lanvin as artistic director in 2001, Alber Elbaz has transformed the Paris-based label, founded in 1889 by Jeanne Lanvin, into a fashion powerhouse bursting with ideas and creativity. Alber Elbaz has pioneered there some of the biggest trends of the past decade – ribbon, bows, pearls, raw edges, sumptuous colour and metallic embellishment among many others. Alber Elbaz has a mastery of cut and an instinct for cloth which leaves a very personal signature on his work, ensuring that all Lanvin clothes are instantly recognizable. Since the introduction of a new menswear line in 2006, Alber Elbaz has also transformed the male wardrobe, bringing a relaxed elegance to men's clothing which is as special as the womenswear.
Lanvin is the latest brand to collaborate with H&M, with previous collections designed by the likes of Karl Lagerfeld, Stella McCartney, Comme des Garçons and Sonia Rykiel. In a new twist, the Lanvin for H&M collection will be revealed to the world through a special film which will be launched on November 2. The film will be available for all to see online at www.hm.com. Following the film's debut, it will be just three weeks before customers have the chance to get their hands on a covetable piece of Lanvin for H&M.